Annual Christmas for Kids with the Zanesville Jaycees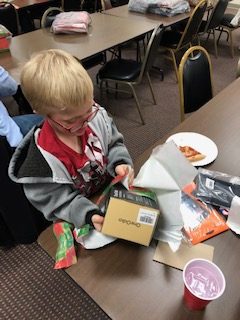 ZANESVILLE, Ohio – The Zanesville Jaycees took local kids Christmas shopping Tuesday, December 11th.
They worked with the local Job and Family Services to help the children go shopping for not only them, but their families as well for their annual Christmas for Kids event. Chad Hanson, said it's the most rewarding event they have each year.
"Just to see them light up – you can tell they're pretty excited about, you know, being able to shop for their family, you know, and it instills in them that it's good to give back and it just gets them really excited and also it melts our hearts too as members of the Jaycees," said Hanson.
Jaycee members picked the children up and went to Walmart to pick out their gifts. When they came back for a wrapping and pizza party, they got a surprise from a familiar face in a big red suit.
"We came and had a fun pizza party and we saw Santa Claus and he gave us some toys," said Braelyn Huff.
Hanson said a lot of their fundraising throughout the year is what makes this event possible. He would like to thank all their sponsors who help the Jaycees put on all their events.