Massive Fire at Masonic Temple in Zanesville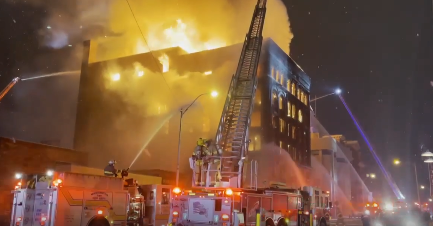 (WHIZ-TV) The Masonic Temple building in downtown Zanesville caught fire around 11:00 pm Thursday Evening. The cause of the fire is unknown. 
The fire started on the third floor and spread to the roof. Video shows flames billowing from the windows. 
The Jail has been evacuated. There is no word of additional evacuations. The area around 4th Street is closed.
Zanesville Fire Department, as well as the South Zanesville Fire Department, and the Dresden Fire Department are on scene.
We will keep you up to date as information becomes available.