Chamber of Commerce Holds Ribbon Cutting for Gracie Allegiance Jiu-Jitsu Academy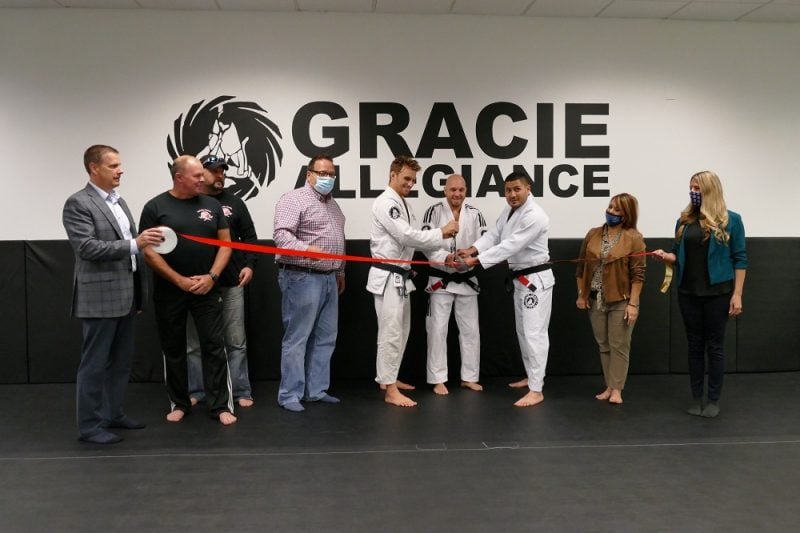 ZANESVILLE, OH – Today the Zanesville-Muskingum County Chamber of Commerce held a ribbon cutting ceremony for Gracie Allegiance Jiu-Jitsu Academy.
Black Belt Professor Jason Cable opened this academy after meeting people in the community who wanted a steady place to learn and practice the martial art. He shares what his academy will be about.
"For us here like there's no belt test or anything. Every day is a test. Like you show up you know we do our warm ups, I'll show you the moves, I'll watch everybody drill the moves. You know see how they progress and then at the end of the night we do the live part. Where they live grapple. And I just watch, you watch for progression. You know everybody is different. We don't really have a set stone because everybody's body type is different, different ages."
Cable has a wide range of people who come in to learn. Children, young adults, older adults, everyone is welcome to come and check out what the academy is all about.
"Right now we do kids classes, like basically 2-6 but most of them come in about 3 or 4 years old. We run them from 5:15 to 6 PM every Monday, Wednesday, Friday. Then we have 7-13 year old kids they go from 6 to 7 PM every Monday, Wednesday, and Friday. We have adult classes all week, 7:15 PM like we do Monday, Wednesday, Thursday, Friday, we do Gi and Tuesday we do No Gi. Sunday we have an open mat. We're working on getting the Women's Self Defense up and running on Sunday at noon."
Gracie Allegiance Jiu-Jitsu Academy is located inside of The Colony Square Mall. If you want to find out more information about and their schedule you can visit their website https://zanesville-jiujitsu.com/ .