John 'Butch' Wolfe (May 4, 1936 – October 27, 2010)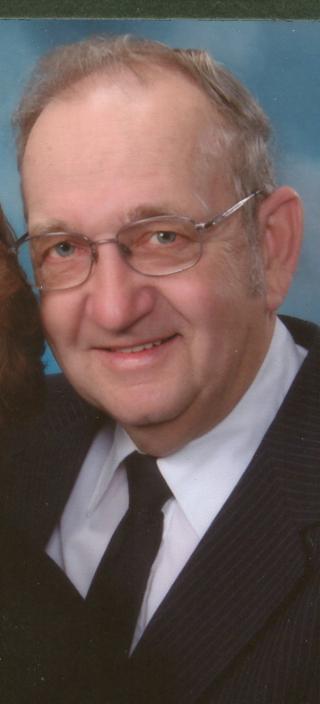 Butch Wolfe
May 4, 1936 – October 27, 2010
Thompson-Farus Funeral Home
John "Butch" William Wolfe, 74, of Philo, went to be with our Lord at 6:40 pm, October 27, 2010. He maintained his positive attitude and kept a smile on his face through-out his courageous battle with cancer.
He was born May 4, 1936 in Philo, the son of the late John T. and Emma (Yerian) Wolfe.
Butch retired from the Ohio Ferro Alloy Corporation in Philo where he worked as an electrician. He was an active member of St. John Lutheran Church in Stovertown where he served many years on the church council. He was a member of the Masonic Doric Lodge # 172 in Deavertown, a 32° Mason, and a 25 year member of the Scottish Rite Valley of Cambridge.
He enjoyed hunting and fishing and was a lifetime member of the National Rifle Association and Bass masters. He was also a member of the Freeland Valley Antique Power Club and enjoyed restoring antique tractors his favorite being Farmalls. Most of all he enjoyed boating and spending time at his river cottage with family members and friends. The love that he showed them made him the best husband, father, grandfather, great grandfather and friend.
He is survived by his wife of 54 years, Delores (Swingle) Wolfe, whom he married January 15, 1956; his brother-in-law Kermit (Barbara) Swingle of Philo who he loved like a brother; his son Steve (Brenda) Wolfe of Deavertown; his daughter Susan (Frank) Dietz of Zanesville; his grandchildren Steve (Sarah) Wolfe, Shane (Laura) Wolfe, Jessica Smith, Courtney Smith, Adam Dietz and Emily Dietz; his great-granddaughters, Ellie Wolfe and Katelynn Wolfe. He is also survived by a foster-sister Berna Jean Billman of Arizona and many other special relatives and friends.
In addition to his parents, he was preceded in death by his sister Joanna Lemley and a great-granddaughter Emma Belle Wolfe.
Masonic services will be 5:45 pm Saturday evening.
Visitations will be 2 to 4 and 6 to 8 pm Saturday, October 30th at the Thompson-Farus Funeral Home, 383 Main St., Duncan Falls. Funeral services will be 2 pm Sunday October 31st at St. John Lutheran Church, St. Rt. 555 in Stovertown, with Pastor Catrina Hawkins-Bowles officiating. Burial will follow in the church cemetery.
In lieu of flowers, the family asks for donations to Genesis Hospice, 713 Forest Avenue, Zanesville or to Stovertown St. John Lutheran Church Memorial Fund, PO Box 361, Philo, OH 43771.
To send a note of condolence to the Wolfe family go to: www.thompsonfarusfuneralhome.com