Marcella J. Sowers (March 17, 1920 – April 13, 2010)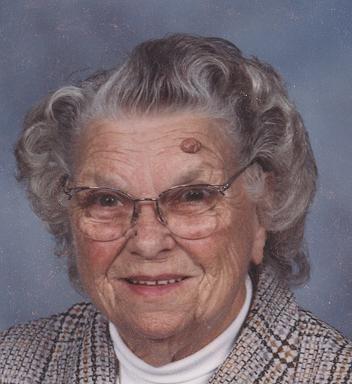 Marcella J. Sowers, 90, of Zanesville, died at 12:10 p.m. Tuesday, April 13, 2010 at Genesis Hospice and Palliative Care. She was born March 17, 1920, in Crooksville, a daughter of the late Robert Guy and Viola Mae Hoops Fleming. She graduated from Crooksville High School Class of 1938. For approximately 6 years, she worked at the Crooksville Bank and then moved to Michigan where she married H. William Sowers in 1946. They moved back to Crooksville in 1963 and she later became employed as a clerk for the Crooksville Water Department. Marcella was a member of the First Hope United Methodist Church, where she served as Secretary and Treasurer for many years, Eastern Star of Crooksville, Crooksville Band Boosters and the Crooksville Mothers Club. She served as a poll worker in Crooksville for over 25 years. Marcella was a wonderful mother and homemaker.
Surviving are a son, Robert W. "Rob" Sowers and fiancé, Sarah E. Roby, of the home; and two grandchildren, Kyle and Kelsey Sowers.
In addition to her parents, she was preceded in death by her husband, H. William "Bill" Sowers, who died in 1964; two sisters, Helen Roberts and Emma Mae Hriczko; and a brother, Robert "Bobbie" Fleming.
Friends may call 2-4 & 6-8 p.m. Thursday, April 15, 2010 at the Bolin-Dierkes Funeral Home, 1271 Blue Ave., Zanesville and two hours prior to the services at the church. Funeral services will be held at 1:00 p.m. Friday, April 16, 2010 at the First Hope United Methodist Church, 102 N Buckeye St., Crooksville, Ohio with Pastor Gay Blau officiating. Burial will follow at Crooksville Cemetery.
To send a note of condolence to the family: www.bolin-dierkesfuneralhome.com