V. Eileen Norman (March 29, 2010 – November 23, 2010)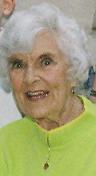 V. Eileen Norman, 92, of Zanesville, died at 10:50 AM Tuesday November 23, 2010 at The Helen Purcell Home.
Eileen was born March 29, 1918 in Zanesville the daughter of the late Wilber and Jessie Dye Burson. Eileen loved her hometown, working tirelessly with many organizations: National Secretaries Association in her career years with a gas transmission company; Grace Church where she hung Christmas greens and arranged Easter lilies; Garden Club; Zanesville Country Club, her Sunrise Bowling group with the Derby mint juleps; Bethesda Hospital where she was presented the Hirem Heck award, Senior Bethesda League where the Trees of Love took root, and The Helen Purcell Home which embraced her in her final years and benefits yearly from her and her husband Bill's concept and naming of the yearly Lunch with the Asters. Eileen lived with style, collected beautiful clothes, antiques, plants, and friends across all ages and continents.
She is survived by her daughters: Sybil Ann Norman of Columbus and Mary Elizabeth Norman Sussman and son-in-law Verne of Ormond Beach, FL; grandchildren Harriet Hammersmith of Edinburgh, Scotland, William Kyle Hammersmith and wife Tammy of Lynchburgh, VA, and Robert E. Hammersmith and wife Kelly of Marysville, OH, and eight great-grandchildren; nieces Mary Lou Delbert, Christina Grubb, and Betsy Devoll all of Zanesville.
Preceeding her in death were husband Bill who died in 2004; brother and sister-in-law Bob and Evelyn Burson; niece Anne Browning.
Visitation will be 11:00 AM till time of service at 1:00 PM Monday November 29, 2010 at Bryan & Snider Funeral Home 2318 Maple Ave. Pastor Steve McGuire will officiate followed by committal service at Memorial Park Cemetery.
The family wishes for memorial gifts be sent Helen Purcell Home, Genesis Tree of Love project, or Grace Church Youth Ministries. In lieu of flowers at the services please call your florist with the name of a special person who would have their day brightened by your gift in Eileen's memory.
To share memories and condolences with the Norman family, visit Eileen's memorial on-line registry at www.BryanSniderFuneralHome.com