WHIZ Sports 4-13: Coshocton Defeats Maysville; Licking Valley Offense Propels Panthers Past Zanesville In Baseball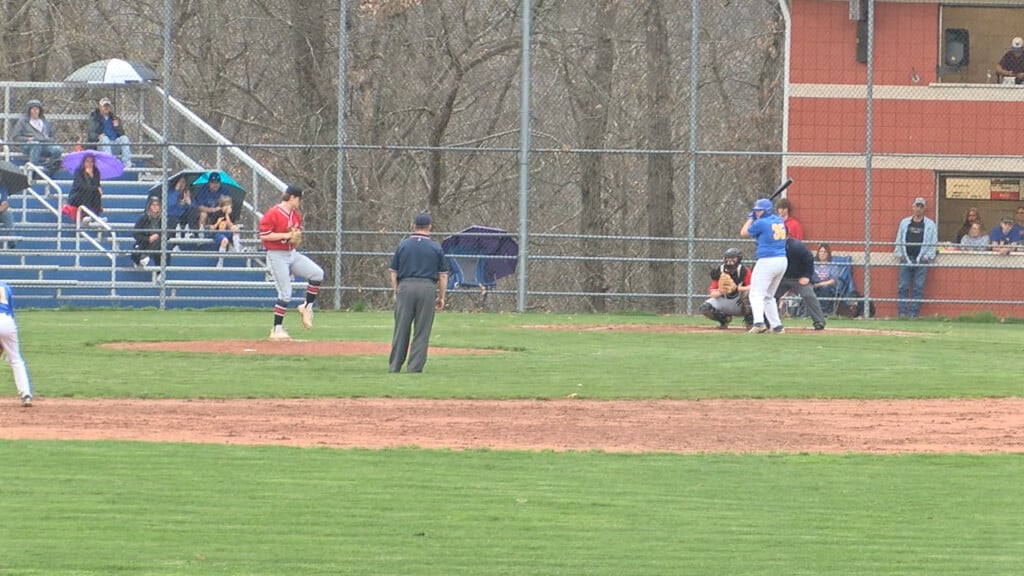 GAME #1: COSHOCTON VS. MAYSVILLE
ZANESVILLE, OH- The Maysville Panthers took on Coshocton on a rainy afternoon but it was the road team bringing the heat in this one.
Coshocton held a lead early on, but would add to it when Zach Jennings puts a deep one into left field and that would bring home two runs, adding to the Coshocton lead. Shortly after, road team goes right back to left field to score a run this time it's Hudson Wesney delivering at the plate and he would drive in a run.
Maysville looking to get out of the jam and it's Coen Fink with the strikeout to end the inning. Panthers looking to get some more runs on the board. Good start here for the Panthers as Cam Morrison lines this one past the hot corner on his way to a double.
But Coshocton would slam the door shut as Wesney brings the heat for strike three. Panthers with another chance and they get a base hit over the head of the second baseman.
But check out this play from Coshocton…fly ball to right field and it's Gage Wright with the full extension he lays out and makes the diving catch. What a play! It'd be all Coshocton in this game they go on to defeat Maysville 14-2.
GAME #2: ZANESVILLE BLUE DEVILS VS. LICKING VALLEY PANTHERS
ZANESVILLE, OH- It was a little rainy outside but that didn't stop Zanesville and Licking Valley from getting to it.
The first couple of innings were dominated by the defenses as it stayed pretty close through three innings. But once the rain started to come down a little harder Licking Valley's offense went with it.
In the fourth inning Licking Valley took off and scored four runs to extend their lead. Theo Walsh was a big part of that as he hit a three run homer to give them a huge lead.
Next inning for Licking Valley was even better as they scored nine more runs to end the game early as they defeated Zanesville 17-0.