12 Days Before Christmas Raffle Tickets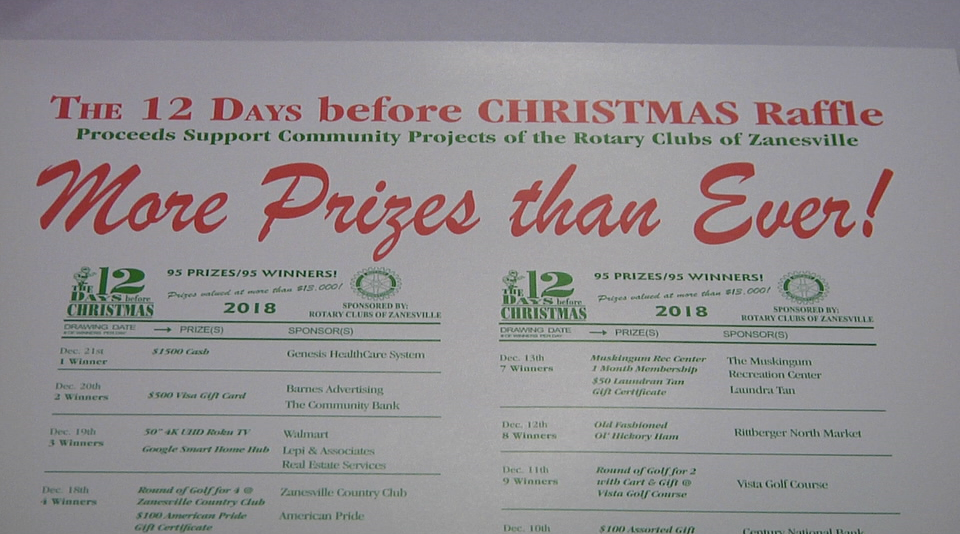 ZANESVILLE, Ohio – It's the holiday season and the Day-Break and Noon Rotary Clubs are bringing back the 12 Days Before Christmas Raffle.
Starting December 5th, you can purchase a ticket for $5 or three tickets for $10. A prize will be awarded to winners who are selected that day. There are chance to win gift cards, tickets, and even $1500 in cash.
"There's going to be over 13,000 dollars in prizes being awarded. Each day, starting tomorrow, for 12 days before Christmas," said 12 Days Before Christmas Chair, Scott Peterson.
All the prizes were donated by different sponsors from the area. The money raised from the fundraiser will go to the Rotary's many community projects.
"The proceeds from our 12 Days Before Christmas raffle, go towards sponsoring Rotary local projects. One that's coming up here next week will be a children's Christmas party," Peterson added.
Tickets for the raffle can be purchased from any Rotarian through December 21st.