90-year-old Reds fan visited at Oaks of Bethesda by mascot greeted with tickets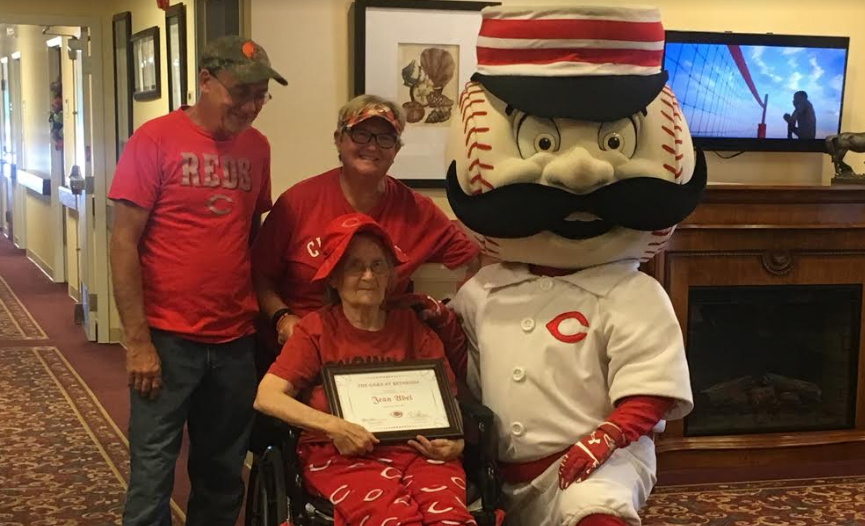 ZANESVILLE, Ohio – A lifelong Cincinnati Reds fan had quite the afternoon today at the Oaks of Bethesda.
90-year-old, Jean Abel has been supporting the Reds for as long as she can remember. Abel was showing off her pride today from head to toe, when a special guest stopped by. Cincinnati Reds mascot, Mr. Redlegs stopped by to surprise Jean with four tickets to a game next week.
Abel said"Oh, the Reds They have been my favorite baseball team for a long time." She also mentioned her favorite players, "I have a bunch of Reds, Pete Rose and Johnny Bench."
Jean bet a bottle of pop that the Reds beat the Chicago Cubs tonight with an Oaks of Bethesda employee because he is a Cubs fan. Jean's daughter Cindy Swope said it means the world to see her mother so well taken care of.
Swope said, "It is just amazing, they have done quite the job with caring for their patients and to take an interest in doing something like that for mom at this point and time, it is really a great feeling. There is no way to explain it other than to… It is probably one of the things that she will always remember."
It is clear Miss. Abel will always be a beloved Reds fan, and they have made memory after memory at Reds games. They look forward to attending Great American Ballpark next week for another game.