Bill H. Moore (December 3, 1941 – June 16, 2011)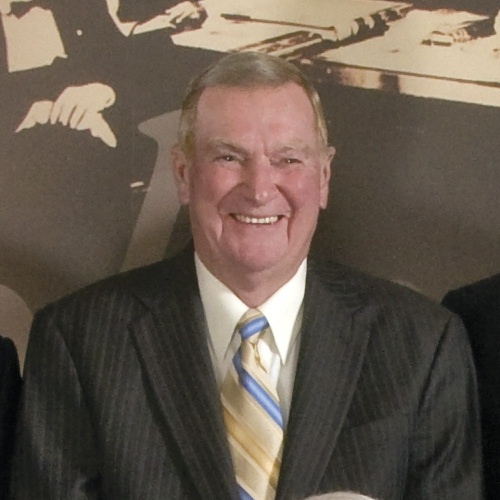 Bill H. Moore, age 69, of Zanesville passed away early Thursday morning June 16, 2011 at his home surrounded by his loving family. Bill was born in Crooksville on December 3, 1941 a son of the late Phillip F. and Helen Meade Moore.
Bill was the owner and Past President of RMX Freight Systems Inc., served as the current Chairman of the Board for Community Bank; owner and Past President of Fra-Mor Inc., Quiet River, LTD and Moor Realty; was a member of the Zanesville Country Club, Elks, Columbus Transportation Club, St. John's Lutheran Church and was a past Trustee on the Bethesda Hospital Associate Board; member of the Board of the Brannon Hull Scholarship, Original Co-Chairman of the Crooksville-Roseville Pottery Festival, Past Chairman of the Board for National Motor Freight Tariff Association, Past President of the Crooksville-Roseville Area Jaycee's, Perry County Metropolitan Housing Authority, Ohio Ceramic Museum and the Ohio Motor Freight Tariff Committee and was also a Past Vice Chairman of the Zanesville Muskingum County Chamber of Commerce and Past President of the Zanesville-Muskingum County Port Authority.
Bill was a loving husband to his wife Vickie Embrey Moore whom he married on March 3, 2003; loving father to his son Jeff (Holly) Moore of Zanesville; his daughters Marci (Lamar) Hartness of Granville, Beth (Andy) Burt of Gratiot, Shelly (Darin) Ater of Crooksville and Stephanie (Jay) Chipps of Pickerington; loving brother to his sisters Mary Elizabeth Donaldson, Georgeann Tatman and Mollie (Chuck) Williams all of Crooksville, Sue (Stan) McHenry of Roseville; brother John (Kathy) Moore of Zanesville and mother-in-law Clara Russell of Crooksville; loving grandfather to Leah Burt, Logan Burt, Adam Hartness, Clay Hartness, Alli Hartness, Connor Moore, Scott Moore, Daralyn Ater, Gracie Chipps and Sophie Chipps; and numerous nieces and nephews.
In addition to his parents he was proceeded in death by his wife Beverly Wilson Moore; sister Emma Kay Dunn and nephew Mike Williams.
Funeral services will be held 10:30 a.m. Monday June 20, 2011 at the St. John's Lutheran Church Zanesville with Rev. Mark Combs officiating. Services will conclude with burial in the Crooksville Cemetery. The family will receive friend on Sunday June 19, 2011 from 2-8 p.m. at THE SNOUFFER FUNERAL HOME 1150 W. MILITARY RD ZANESVILLE. In lieu of flowers memorial contributions may be made to the St. John's Lutheran Church Seventh and Market streets Zanesville, OH 43701.
To sign an online guest register go to www.snoufferfuneralhome.com or call our caring staff at 450.8000.