Bonnie Jean Glaneman (April 27, 1929 – June 25, 2011)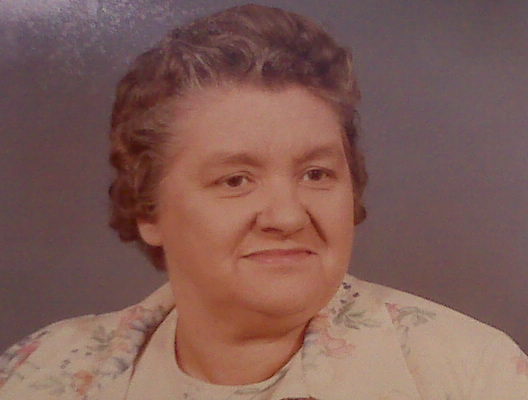 Bonnie Jean Glaneman ,82, of Zanesville passed away at 8:25am on Saturday June 25, 2011 at Genesis Hospice Morrison House.
Bonnie was born in Crooksville on April 27, 1929 to the late Sidney and Beatrice German Tilton. Bonnie formerly attended the New Lexington Church of the Nazarene. Bonnie was the former owner of the Dew Drop Inn in Frazeysburg, she also worked at other area restaurants and was a caregiver. Bonnie was a loving Wife, Mother, and Grandmother. She was a friend to all who knew her.
She is survived by a son Patrick Hugh (Judy) Glaneman of Dresden, five daughters Kay Cole Tyson of Zanesville, Laura Faye "Holly" Kyllo of Reynoldsburg, Juanita (Ralph) Burri of Brownsville, Pamela (Bill) Knapp of Campbellsburg, Kentucky, and Lanita "Minnie" (Dale) Bice of Drakes. A brother William Edgar Tilton of Mt. Healthy. 23 Grandchildren: Mary (Mike Bay) Glaneman, April (Chuck) Prince, Ernest C. (Kristin) Glaneman III, Peter G. Glaneman, Patricia (Bruce) Riddlebarger, Lisa (Rick) Perone, Bonnie Jo (David) Burns, Elmer "Jake" Cole Jr., Devi (Dave) Gardner, Jenny (Mike) Giagonelli, Holly (Duane) Price, Stephanie Sprankle, Steve (Kim) Reed, Jeffrey Glaneman, Katherine Glaneman, William Glaneman, William Knapp II, Dorothy Kestner, Christian Harrell, Tamela Knapp, Beatrice Knapp, Rachel (Dave) Murphy, and Denise (Bryan) Gadd. Great-grandchildren: Allie Glaneman, Alaina Bay, Miranda Prince, Ashley (Tom) Samson, Nick (Sara) Spinks, Ricky (Michelle) Perone, Amanda (Ryan) Elble, Jordan Perone, Sr. Airman Jacob (Dara) Burns, Heather Burns, Taylor Cole, Carter Cole, Maddy Gardner, Jack Gardner, Bryce Gardner, Jason Giagonelli, Lauryn Price, Joey Price, Lilly Sprankle, Brooklind Reed, Kaylyn , Christopher Kestner, Casera Kestner, Pamela Kestner, Kevin Kestner, Bilivia Kestner, William Harrell, Kayden Harrell, Samantha Knapp, Jordan Murphy, and Branson Gadd. Great-Great-grandchildren: Gauge Samson, Chloe Spinks, Cayden Perone, Caitlyn Perone, Gabby Elble, and Sydney Burns.
In addition to her parents she was preceded in death by her husband Ernest C. Glaneman, four sons Ernest C. Glaneman II, William C. Glaneman, Richard Raymond Glaneman, and Charles Sidney Glaneman. Two son-in-laws Rev. Richard Raymond Kyllo and Clata E. "Big Daddy" Tyson; two sisters Joanne Bennett and Mary Lou Lewis.
The family would like to thank Willow Haven Care Center and Genesis Hospice Morrison House for their wonderful care and love. Memorial Contributions may be made to Willow Haven Care Center Activity Fund.
Calling hours will be 2-4 & 6-8pm on Tuesday June 28 at THE SNOUFFER FUNERAL HOME 1150 WEST MILITARY ROAD ZANESVILLE. Funeral services will be held at 2pm on Wednesday in the Snouffer Chapel with Mike Wilson officiating. Burial will take place at Zanesville Memorial Park Cemetery at a later date. To send a note of condolence to the family visit www.snoufferfuneralhome.com and click obituaries or call our caring staff at 450-8000.