Chandra Byers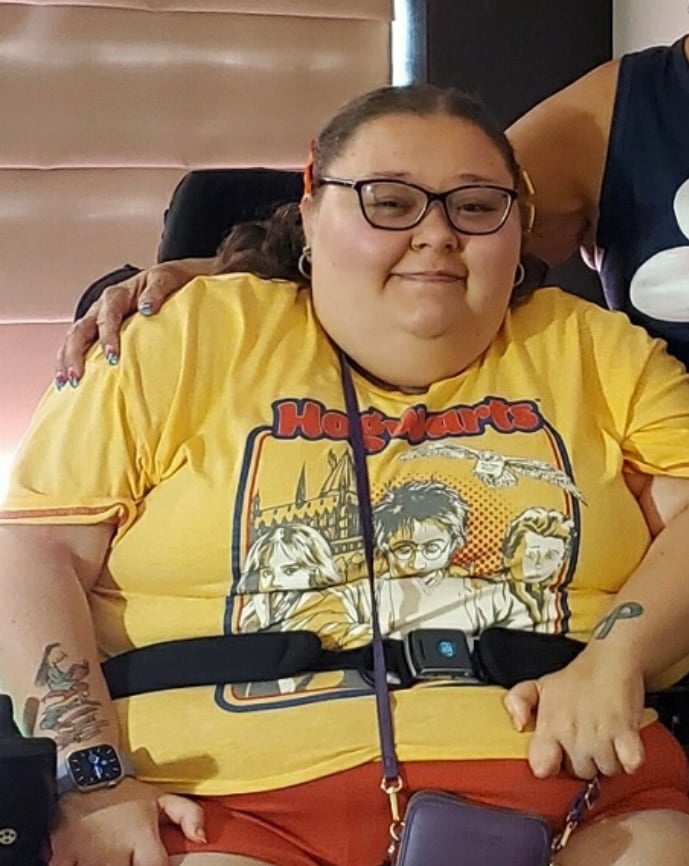 It is with great sorrow that we announce the death of our incredible daughter, Chandra Lynn Byers, 25, of Zanesville, on Tuesday, April 18, 2023 at Genesis Hospital. Chandra was born October 3, 1997 to Tara (Mayle) and Charlie Byers of McConnelsville. Born during Zanesville's Bicentennial, her mother held her as she watched fire works from their hospital window. She was so special, those fireworks were meant for her.
Chandra was a member of the House of Slytherin, an expert on all things Harry Potter, even visiting Ollivander's, where her wand chose her. She had a entire room dedicated to her arts and crafts. Her family will especially miss the love she put into all her homemade gifts. She dreamed of getting married and having children one day.
Chandra is survived by her mother, Tara (Kevin) Russell, her very special grandmother, with whom she lived, Rhonda Stevens, step-father, James Seals, siblings, Suzy (Blake) Smith, Isaiah Byers, Mya (Jackie) Cramer, Elijah Hanzey, Traneice Seals, Rainey Tennant, and Mason Byers, great-grandparents, Robert and Gloria Mayle, her aunts and uncles, Kati (John) Short, Megan (Brandon) Killen, Courtney (Marcus) Staunton, and Bethany Mayle, her nephew, Kohen, and her cousins Rihanna, Cadence, Elliott, Maddy, Hayden, Dalana, Emily, Aaron, Gavin, Della, Piper, Zoe, Tristen, Airyn and Willow.
She is preceded in death by her father, Charlie Byers; grandpa, Mitchell Mayle; uncle, Lowell Mayle; an infant brother/ sister, great-grandparent, Iva and Odbert Mayle; cousins, Reilly Killen, Aidan and Halle Short.
Chandra was born with a neuromuscular disease that took her ability to walk. Her family takes solace knowing she is free of her earthly burdens.
You may call on the family Friday, April 21, 2023 from 12 p.m. until 1 p.m., services to follow at 1 p.m., at Burrell Funeral Services. Per Chandra wishes, cremation will follow. BURRELL FUNERAL SERVICES is serving the family.