Floyd "Gene" Shipley (August 26, 1929 – March 8, 2011)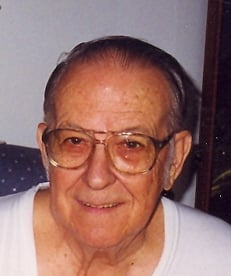 Floyd "Gene" Shipley, of Nashport, died at 8:14 a.m. Tuesday, March 8, 2011 at his residence. He was born August 26, 1929, in Ironspot, Ohio, a son of the late Jonah and Edith Sims Shipley. He retired after 35 years of service as an inspector for Kaiser Aluminum. He was a member of the Tree of Life Christian Fellowship Church, Muskingum Masonic Lodge #368 of Fultonham, Ohio, VFW George Selsam Post #1058, American Legion Post #29, Buckeye State Sheriff's Association, Aladdin Shrine and Scottish Rite Valley of Cambridge. He was a United States Navy Korean Conflict Veteran serving on the USS Valley Forge.
Surviving are his wife of 25 years, Rochelle L. Horner Shipley of the home; two daughters, Teresa (Randy) Small and Diana S. Gutridge, both of Newark, OH; a step daughter, Linda (Ted) Wilson of Weirton, WV; a step son, Al (Kim) Cole of Reynoldsburg, OH; several grandchildren and great grandchildren; a brother, William (Boots) Shipley of Roseville, OH; a sister, Glenna Rucker of Zanesville; and several nieces and nephews.
In addition to his parents, he was preceded in death by two grandchildren; six brothers, Richard, Rodney, Hershal, Carl and Donald; and two sisters, Esther and Ruth Ann.
Friends and family may call from 1-3 & 5-7 p.m. Friday, March 11, 2011 at the Bolin-Dierkes Funeral Home, 1271 Blue Ave., Zanesville where funeral services will be held at 7:00 p.m. with Pastor Thomas N. Hayes officiating. VFW George Selsam Post #1058 will hold full military rites at 1:00 p.m. Friday, March 11, 2011 at the funeral home. Burial will be held at a later date.
To send a note of condolence, a sympathy card or comfort food to the Shipley family: www.bolin-dierkesfuneralhome.com