Jeffrey W. White (July 15, 1953 – December 10, 2010)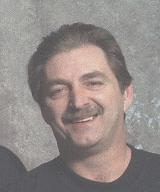 Jeffrey W. White, 57, of Zanesville, died at 5:10 a.m. Friday, December 10, 2010 at his residence. He was born July 15, 1953, in Zanesville, a son of Richard O. and Edith M. Russell White of Zanesville. He graduated from Zanesville High School. He was owner and operator of JW White Painting and Wallpapering. He was an avid bowler, which he just bowled a 300 game a month and a ½ ago for a total of 8, 300 games. He loved the Pittsburgh Steelers, Ohio State Buckeyes and enjoyed watching football, playing golf, fishing and bowling tournaments.
In addition to his parents, he is survived by his wife, Brenda A. Riley White of the home; a daughter, Nicole Arnold of Zanesville; a step daughter, Adina M. Jones of Zanesville; a step son, David James Scott of Zanesville; five grandchildren, Ryleigh, Serenity, Camryn, Adyan and Myllei; a brother, James "Rick" (Patricia A.) White of Zanesville; and several aunts, uncles, nieces, nephews and cousins.
Friends may call 2-4 & 6-8 p.m. Sunday, December 12, 2010 at the Bolin-Dierkes Funeral Home, 1271 Blue Ave., Zanesville. Funeral services will be held at 11:00 a.m. Monday, December 13, 2010 at the funeral home with Pastor L. Dale McAllister officiating. He will be laid to rest in Pleasant Grove Cemetery, Zanesville.
To send a note of condolence, sympathy card or comfort food to the White family: www.bolin-dierkesfuneralhome.com