June Huey
Army,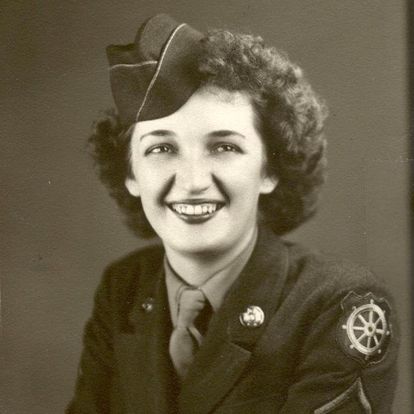 Born in Zanesville, Ohio in the Wheeler Mansion ballroom in 1925 and was the oldest of seven children.
Attended Zanesville High School, but went into the service during WWII prior to her graduation.
Served in the Women's Army Corp. doing clerical and other administration tasks.
Married her childhood sweetheart, Bill Huey, also from Zanesville, Ohio, in May of 1948.
Moved to Manhattan Beach, CA in 1950 and raised 3 children there.
Attended night school for her GED and graduated from Redondo Beach High School in
California while working full time for Douglas Aircraft Company.
Attended El Camino College taking classes in Engineering.
Continued to serve her country by working for TRW Space & Defense as the Manager of
Micro Electronics Center and supporting various NASA sponsored programs.
Received various awards during her 25 years of service at TRW, but the most honored
one was the Medallion she received made from the metals of both the Apollo II and Eagle
lunar module for the microchip used in the first lunar landing in 1969.
Retired in 1989 to travel with her husband in our motorhome to accomplish our goal to
see all the United States.
Traveled abroad several times to Europe, South America, Middle East and the
Caribbean.
Volunteered at Hospice here in Zanesville and also at the Goodwill Industries of
California doing charity events.
Returned to Zanesville, Ohio in 1991 with her husband, Bill, to enjoy in our retirements. We
were married for 43 years.