Kathy Carroll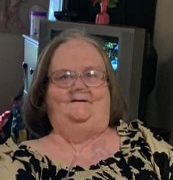 Kathy D. Carroll, 69, of Zanesville, died at 7:43 P.M. on Friday, September 15, 2023 at Genesis Hospital, Zanesville. She was born October 10, 1953, in Zanesville, a daughter of the late James A. and Ruth L. (Barnhart) Carroll. She was a member of the Westwood Baptist Church, enjoyed coloring and being social.
She is survived by three sisters, Joyce Hamilton, Andrea (Sam) Mitchell and Holly Hennessy; three brothers, John Carroll, Jeff Carroll and Tim Carroll; and many nieces and nephews.
In addition to her parents, Kathy was preceded in death by a sister, Paula Myers; two brothers, Ron Carroll and Rod Carroll; and two brother in laws, Bennett Myers and Danny Hamilton.
Friends and family may call from 5:00 P.M. to 8:00 P.M. on Wednesday, September20, 2023 at Westwood Baptist Church, 2395 East Pike, Zanesville, Ohio 43701, where funeral services will be held at 11:00 A.M. on Thursday, September 21, 2023 with Pastor Joshua Hamilton officiating. Kathy will be laid to rest at New Hope Cemetery, Adamsville.
To send a note of condolence, order flowers or comfort food: visit www.bolin-dierkesfuneralhome.com , follow us on Facebook, or call our professional staff at 740-452-4551.