Larry Miller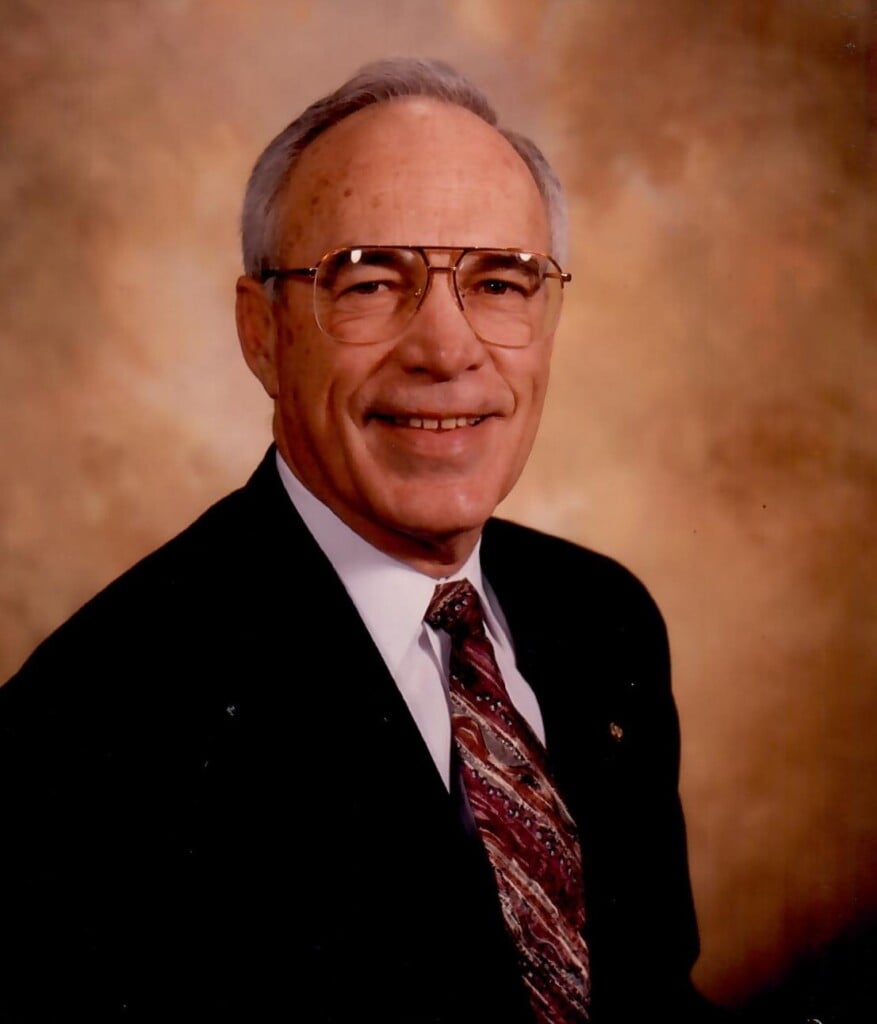 Larry William Miller, age 88, passed away peacefully on Thursday, July 6, 2023, surrounded by his family. Larry is survived by his son, L. Brent Miller (Bonnie Weaver-Miller), and his grandchildren, Grace Elizabeth (Nick) Smeenk, Chase Weaver (Megan), Adeline Marie (Shane Smith), John "Jack" William, and Megan Elise (Alex) Adrion. He has four great grandchildren, Charlotte "Charlie" Christina Smeenk, Jasper Wren Smeenk, Brent Thomas Miller, and Anna Catherine Miller. Larry is also survived by his sister Elaine (Jim) Williams. He is preceded in death by his parents, his wife, Helen Elizabeth "Betty" Miller (October 15, 2016), and their daughter, Christina Lynn Miller (April 11, 2012).
Larry was born to Lawrence Raymond Miller and Helen Gladys Devoe Miller on February 2, 1935, in Rix Mills, Ohio (Muskingum County). He was a graduate of New Concord High School (1953) and Marietta College (1957), where he was quarterback of the football team, and West Virginia University (Masters). He married Betty on June 5, 1955, and they raised their two children together in New Concord, Ohio. Betty and Larry shared life together for sixty-one wonderful years.
Larry was a loving husband, devoted father, passionate educator, and ardent supporter of his community. His departure leaves an indescribable void in the lives of all who knew and loved him. Larry's unwavering dedication to his family, his deep appreciation for the outdoors, and his relentless commitment to education and community support will forever be remembered and cherished.
As an educator, coach, and school administrator, Larry touched the lives of countless students throughout his distinguished career in public education spanning over five decades. Larry served as a teacher, coach, principal, and superintendent in East Muskingum School District, and as Muskingum County Superintendent of Schools. He believed in the transformative power of education and dedicated himself to nurturing the minds and hearts of his students, teachers, and players. Larry believed the classroom was not just a place of learning; it was a sanctuary where students felt understood, valued, and encouraged to embrace their unique talents. Larry was a leader in a state-wide effort to reform public education in Ohio to ensure a fair and equitable opportunity for education for every student in the state. Larry's dedication extended to the athletic field as well, where he coached numerous sports teams. As a coach, he inspired his players to embrace the values of teamwork, discipline, and perseverance. He saw sports as an avenue for personal growth, teaching his athletes invaluable life skills that extended far beyond the game. He had an innate ability to inspire, motivate, and guide his students, players, and teachers, leaving an indelible impact on their lives. Over the course of his career Larry received numerous awards and recognition for his service in public education. Two of his most cherished accolades were his induction into the East Muskingum Local School Hall of Fame in 1994, and the East Muskingum Board of Education naming the Larry Miller Intermediate School in his honor in 2003.
Beyond his role as a coach and educator, Larry believed in the importance of giving back and supporting his community. He recognized the value of fostering strong ties within the community, and actively engaged in various community initiatives.
Above all, Larry cherished his family. He was a pillar of strength, a loving husband to his beloved wife, Betty, a devoted father to his two children, Christy and Brent, and caring grandfather to his grandchildren and great grandchildren. Larry's unwavering support, guidance, and love served as a guiding light for his family. His memory will forever remain etched in their hearts.
Funeral arrangements are being handled by Farus Funeral Home of New Concord, Ohio. A funeral service will be held at the New Concord United Methodist Church, 20 East High Street, New Concord, Ohio, Thursday, July 13, 2023, at 11:30 a.m., with Rev. Philip Wilend officiating. The family will receive visitors from 10:00 to 11:15 a.m., at the church, followed by burial after the service at Pleasant Hill Cemetery, New Concord, OH. In lieu of flowers, memorial donations may be made to the Muskingum University, ℅ Institutional Advancement, Larry Miller Family Scholarship Fund, P.O. Box 1837, New Concord, OH 43762-1837 or online at www.muskingum.edu/give, select "Give Online", indicate "In Memory of: Larry Miller", and add Notes/Special Instructions: "Larry Miller Family Scholarship".