Louella Kincheloe (October 2, 1920 – December 2, 2010)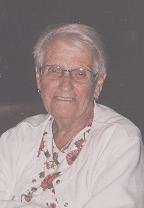 Louella Kincheloe, 90, of Zanesville, died at 2:35 p.m. Thursday, December 02, 2010 at the Willow Haven Care Center. She was born October 2, 1920, in Roseville, Ohio, a daughter of the late Benjamin Franklin and Elva A. Dunkle Wright. She was a lifetime member of VFW George Selsam Post #1058, a member of the American Legion and a Presbyterian by faith.
Surviving are two sons, Daniel (Patricia) Kincheloe of Nashport and Greg (Penny) Kincheloe of Zanesville; two daughters, Marla Miller and Julia (Paul) Wahl, both of Zanesville; six grandchildren; and twelve great grandchildren with one expected soon.
In addition to her parents, she was preceded in death by her husband, John Richard Kincheloe, whom she married October 6, 1940 and who died May 2, 1992; a brother, Robert "Buddy" Wright; a sister, Helen Cheatham; and a son-in-law, Herman Miller.
No calling hours will be observed. A dignified cremation has taken place. Graveside services will be held at 11:00 a.m. Tuesday, December 7, 2010 at Irville Cemetery with Chaplain Tim Patton officiating. Bolin-Dierkes Funeral Home and Cremation Services, 1271 Blue Ave., Zanesville is entrusted with all arrangements.
In lieu of flowers, memorial contributions may be made to Genesis Hospice-Morrison House, 713 Forest Ave., Zanesville, Ohio 43701.
To send a note of condolence, a sympathy card or comfort food to the Kincheloe family: www.bolin-dierkesfuneralhome.com
The family wishes to thank Willow Haven Care Center for the excellent care Louella received this last year.
The family would like to invite friends and family to VFW George Selsam Post #1058, 1318 Putnam Ave., Zanesville immediately following the graveside service.