Muskingum University Students Selected as Finalists for The Fiscal Challenge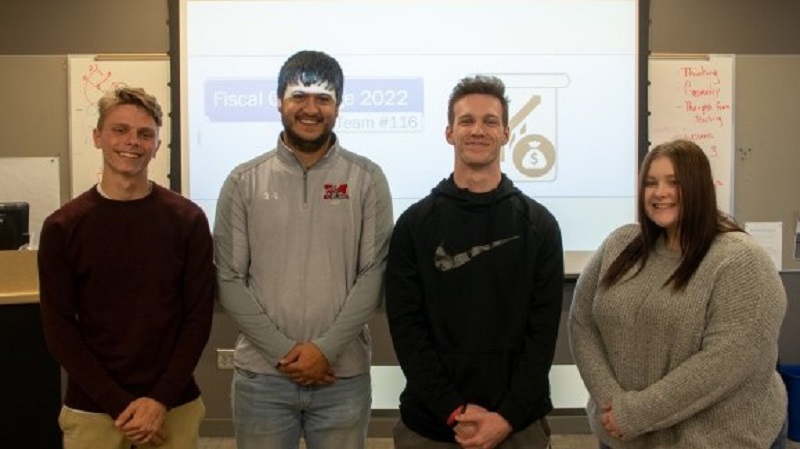 NEW CONCORD, Ohio – The Muskingum University ECON 495 class was one out of 200 college groups accepted into a macroeconomics competition that will be held this week in Washington D.C. 
Fiscal Challenge is an educational non-profit organization that is hosting the competition. It was created to enhance students' understanding of fiscal policy by tasking them to construct a budget plan, present it, and then defend it.
Classmates Jacob Untied, Antonia Snider, Jacob Loudon, and Caleb Barnette will be representing Muskingum Friday, against six of the country's most prestigious Universities.
"Our professor Arjun Sondhi, he brought us two competitions. One that already passed and the Fiscal Challenge," Untied said. 'We just felt like the challenge was more interesting since you can do policies, rather than just doing data analysis and stuff like that."
Snider stated that being accepted as one of six finalists to present their work felt very gratifying, and Loudon explained their dedication to the project.
"During the project, like when it was due, I think in three weeks we put roughly a hundred hours of in person work into those three weeks. Not including what we did on the side," Loudon said.
The Fiscal Challenge presses students to present a budget plan that addresses keeping the national debt-to-GDP ratio around 98 percent by the year 2051 and the Muskingum students focused on Healthcare, Social Security, Infrastructure, Defense and Tax Code.
The students are both excited to compete and nervous about their upcoming presentation but will make connections as well as learn and grow from the experience.