Philo Bridge Project Ribbon Cutting and Grand Opening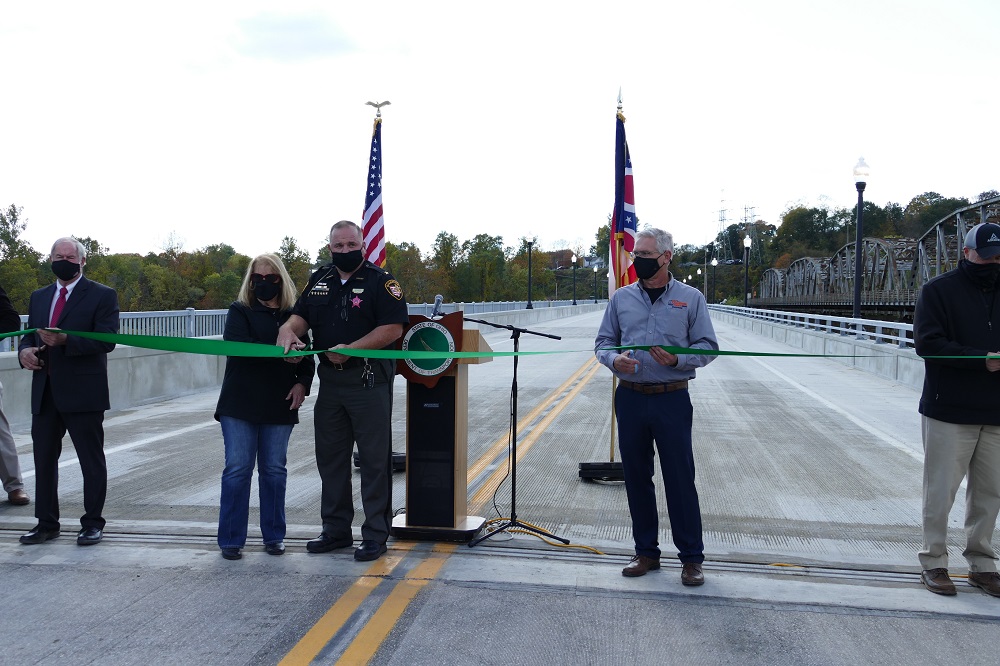 PHILO/DUNCAN FALLS, OH – Today a ribbon cutting and grand opening celebration was held in honor of the completion of the Philo Bridge Project.
The bridge project itself cost a little over $12 million. Muskingum County Engineer Mark Eicher explains the long process it took to get the bridge to where it is today.
"This new project started about two and a half years ago for construction. Construction started about two and a half years ago, the actual project started about 10 years ago trying to find funding. And it took a couple years, two to two and a half years to try to get the funding and that was all done by the past administration. Once they obtained funding it took five years to get to a point where they started construction. So all in all it's probably taken about 10 years."
Construction workers faced difficult work conditions as the river levels fluctuated throughout the year. Out of 830 days since the start of the project, only 306 were workable days. The new bridge however, was desperately needed.
"Well this bridge was needed because the old bridge over here was deteriorated and it's been there since 1954 I believe. So it's got 70 plus years of life on it and that's about the life expectancy of a bridge. The members under the bridge have deteriorated to the point where we were working on it every year. Every year we were out here working on it just to try to keep it open so we could still use it. We've had to load rate it, post it, so that legal loads aren't able to go over it anymore. Those are the reasons we ended up putting up a new bridge."
The new Philo Bridge was named the Lieutenant Michael J. Lutz Memorial Bridge, Sheriff Matt Lutz and his family participated in the ribbon cutting and procession across the new bridge.
Fun Fact: The scissors used to cut the ribbon were the same scissors used to cut the ribbon of the old Philo Bridge back in 1954.