Ronald E. Baughman Jr.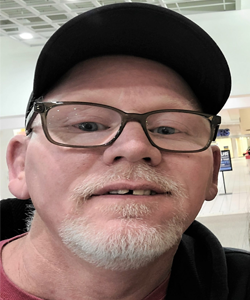 ZANESVILLE
Ronald Earl Baughman Jr., 56, passed away Sunday, April 9, 2023, at Genesis Hospital. He was born August 19, 1966, in Zanesville to Ronald E. and Pamela S. Peterson Baughman Sr. He was a 1984 graduate of Zanesville High School. He was employed as a production puller at Plaskolite and formerly worked at Akro. Ronald loved the Pittsburgh Steelers and golfing.
He is survived by his father, Ronald E. (Sandy) Baughman Sr.; his wife Teri Baughman; a son Anthony Baughman; three brothers: Rick Baughman, Trent Baughman and Jesse Dilley; two sisters: Heather (Brent) Baughman and Tina (Kevin) Dalrymple; mother and father in law Chuck and Martha Pettry; brother in law Chris Pettry; three dogs: Daisey, Brutus and Jasmine; and two kitties: Homer and Sunshine.
He was preceded in death by his mother Pamela S. Peterson Baughman; a sister Tia Baughman; brother Danny Hayes Jr.; niece Alisha; grandparents Earl (Thelma) Baughman; and two brothers in law: Greg Pettry and Mike Pettry.
Calling hours will be from 2 to 4 and 6 to 8PM Thursday, April 13, 2023, at THE SNOUFFER FUNERAL HOME, 1150 WEST MILITARY ROAD, ZANESVILLE. The funeral will begin at 2PM Friday, April 14 in the Snouffer Chapel.
To send a note of condolence to the family go to www.snoufferfuneralhome.com, find us on Facebook or call our caring locally owned staff at 740.450.8000.