Rosemary Demien (December 6, 1930 – March 10, 2011)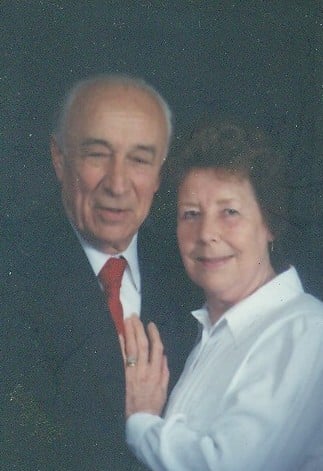 Rosemary Demien, 80, of Zanesville died Thursday March 10, 2011 at Adams Lane Care Center.
She was born December 6, 1930 in Oxford, England and was the daughter of the late Frederick George and Ellen (Blake) Preston.
Rosemary enjoyed being a homemaker and would often be singing while doing things around the house. She was also an avid sewer, knitter and crocheted.
She is survived by her daughter and son-in-law; Denise and Richard Miller of Coshocton; step-granddaughters, Natassja (Ryan) Conway of Delaware, OH and Katherine Miller of Warsaw, OH; sister, Florence Winfield of England, and several nieces and nephews.
In addition to her parents, she was preceded in death by her husband, John N. Demien who she married July 9, 1955, and died July 18, 2009; a brother, Lawrence Preston and a sister, Winifred Jaycock.
A Celebration of Life for Rosemary and John will be held from 1 – 3 PM Saturday March 26, 2011at the Bryan & Snider Funeral Home, 2318 Maple Ave., Zanesville.
"In Your Arms"
When your arms are wrapped around me… in a gentle fond embrace…
it's as though I'm in a dreamland… full of tenderness and grace…
gone are all my wordly sorrows… for in your caress I find…
all the priceless things that comfort… and give my heart peace of mind…
close to you is paradise, dear… where the stars are all aglow…
in the spell of tropic moonlight… such as only lovers know…
thrills are quite beyond comparing… when we two are heart to heart…
and the moment is a sad one… when time says I must depart…
cling to me forever, darling… for I need you oh so much…
there is faith and hope unending… even in your slightest touch…
so when life seems dark and dreary… how I yearn for all your charms…
and I find a sweet fulfillment… when I cuddle in your arms.
To share memories and condolences with the Demien family, visit Rosemary's memorial on-line registry at www.BryanSniderFuneralHome.com.