Zola Duncan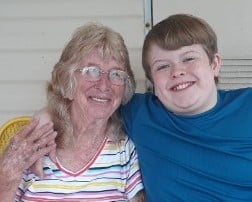 Zola G. Duncan, 88 of Zanesville, died 1:12 AM, Monday, September 11, 2023, at her home following a two year illness. She was born Friday, March 1, 1935, in Cannelville, the daughter of Willard Gheen and Pansy (Taylor) Gheen.
Zola worked alongside her husband, Jim Duncan at Duncan's Market in Roseville for many years. She was a member of the Clint Cramer Chapter DAV, and DAV Women's Auxiliary.
Zola enjoyed fishing, and her many trips to Canada to fish. She also looked forward to her annual February trip to the Strawberry Festival in Plant City, FL. She was a loving and caring wife, mother, grandmother and great grandmother who greatly enjoyed the time she spent with her family and friends, especially her blonde haired, blue eyed great grandson, Jacob Elson.
Zola is survived by one daughter, Betty J. Welker; one granddaughter, Wendy (Paul) Outland; one great grandchild, Jacob Elson; bonus great grandsons, Dakota, Jeremy and Justin Outland; bonus great-great granddaughter, Ava Outland; one sister-in-law, Marilyn Gheen; one niece, Susan (Bob) Piccone; two nephews, Michael Gheen and Jeffrey (Debbie) Gheen; life-long friend, Darlene Shepard and several great nieces and nephews.
In addition to her parents, Zola was preceded in death by her husband, James D. Duncan; her significant other, Robert Forgrave; her son-in-law, William A. Welker, one brother, Wilfred Gheen; one sister, Mary M. Gheen and two stillborn daughters, Patricia and Pamela Martin.
Zola's family would like to thank the physicians, nurses, and staff of Genesis Hospice, especially Jeremy and Keisha; her neighbors and friends, Kathy Mathews, Larry and Lilly Kirkbride, and Dixie Dean for the care given to Zola during her illness.
Graveside Services will be held 1:00 PM, Thursday, September 14, 2023, at Stovertown Lutheran Cemetery, State Route 555, Stovertown, with Rev. Julie Davis officiating. To sign the online register book or to send a personal condolence note please visit www.hilliscombsnestor.com