13th Annual Y Bridge Arts Festival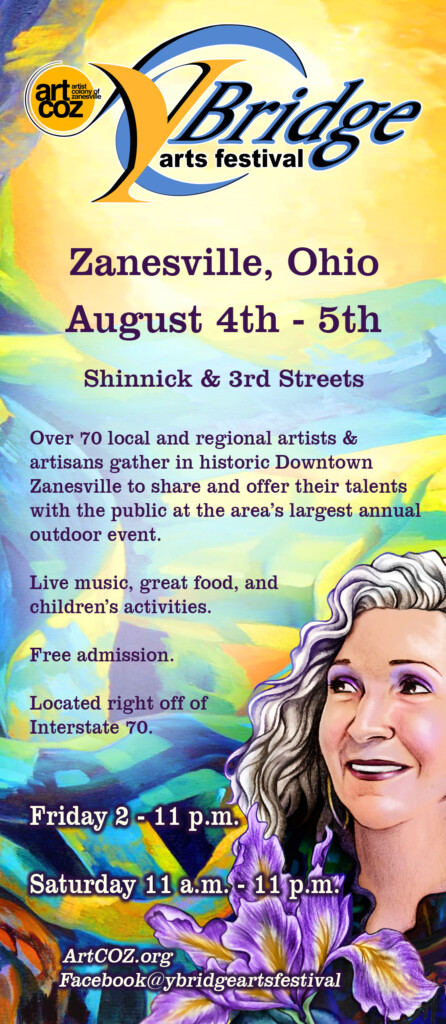 ZANESVILLE, OH – Next weekend will be the 13th Annual Y Bridge Arts Festival but it won't be in the same location as previous years. This years Arts Festival will be held at Shinnick and 3rd Street, President of Art Coz Erin Cole says the change in location is to grow the festival 
"We really want to grow the festival. " Cole said. "We were a little tight in the park. It was a lovely space and we enjoyed it but we are looking to make [the festival] bigger." 
The Art Festival kicks off next Friday, August 4, at 2 P.M. and goes until dark. The Festival continues Saturday starting at 11 A.M. and it will go until dark as well. There will be over 70 local and regional artists with pieces ranging from digital art, paintings, fiber art, and jewelry. 
There will also be musical acts on both Friday and Saturday as well as food vendors and activities for children. 
Cole called this a celebration of the arts. 
"We really celebrate in honor of our founder of the Festival, Linda Regula." Cole said. "We just want to celebrate art and music and come together as a community." 
Cole also wanted to thank the J.W. & M.H Charitable Foundation, Muskingum County Community Foundation, as well as other community sponsors for their donations to the Arts Festival.
For more information on the Arts Festival, head to artcoz.org or visitzanesville.com.