4th of July fun in Noble County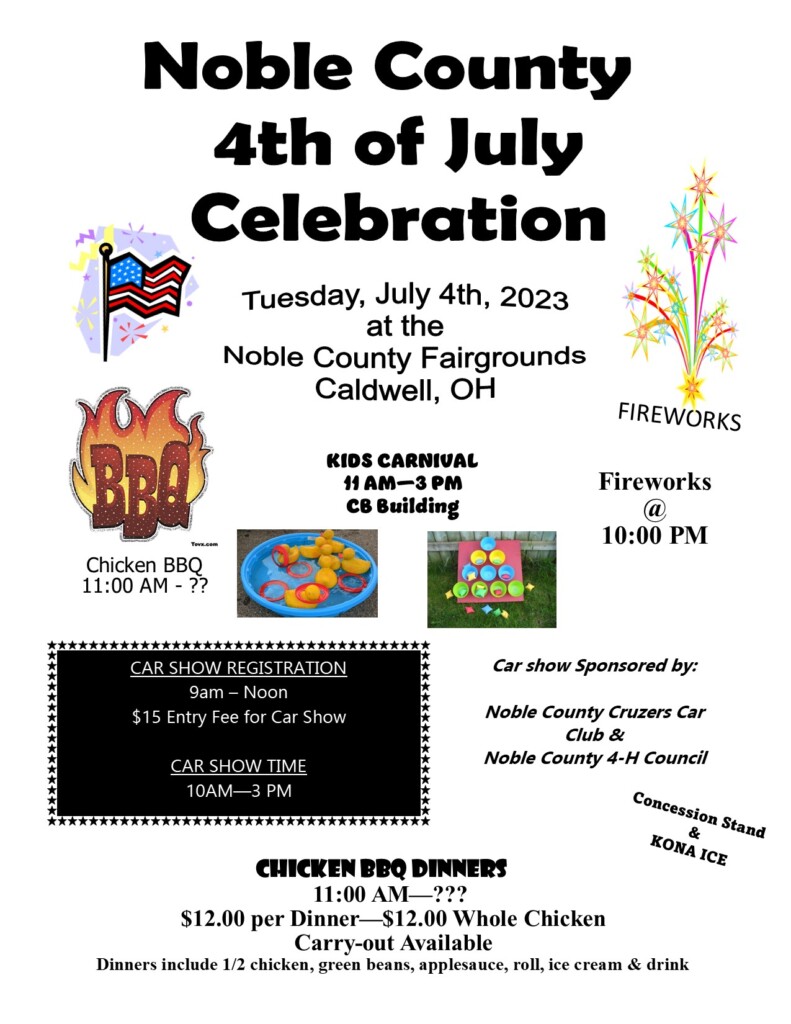 NOBLE COUNTY, OH- On the 4th of July at the Noble County Fairgrounds there will be lots of fun activities to keep your whole family entertained until the firework show later that evening. 
The fairgrounds are free to enter that day. Kicking the day off will be registration for the car, truck, bike, and tractor show at 9 a.m. until 12 p.m. there will be a $15 dollar registration fee for those looking to enter their ride. There also will be chicken BBQ dinners starting at 11 a.m. until they have sold out.  
"So just lots of family fun, I think there's something for everyone on the 4th of July at the fairgrounds, there's lots of things that are going on, like I said, the chicken barbecue, the car show, the kid's carnival, actually the local swimming pool is also open that day, so there's lots of things to do on the Noble County Fairgrounds, there's also a playground there as well, and we also have just various things going on, that night there's gonna be a singer for entertainment and of course the fireworks," said Nancy Snook, Extension Educator with 4-H Youth Development.  
It's also important to remember during this holiday to make sure you are properly handling your food, and you're avoiding keeping it out longer than is recommended to keep all guests safe.  
"If you are having a family picnic or get together, always remember you want to keep cold foods cold and hot foods hot, and so making sure that you are keeping them in a cooler or on a hot surface to keep them warm, prior to serving, and then making sure that foods are out no longer than an hour, that is the recommendation," said Snook. 
The proceeds from the event will be going towards 4-H in Noble County to ensure all participants have access to state and national judging, 4-H camp, scholarships and more. Fireworks begin that evening at 10 p.m. Be sure to bring the whole family for a day of fun and to support 4-H.