Audrey Dyer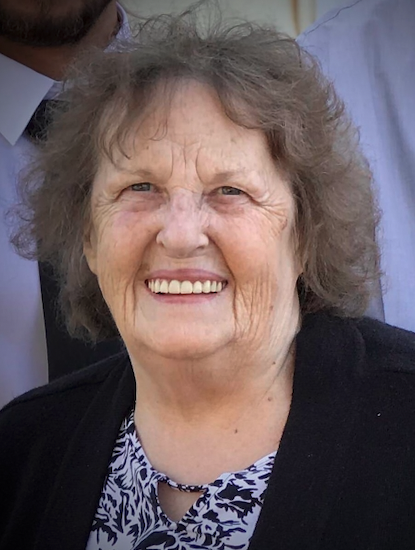 Audrey M. Dyer, 83, of Byesville, passed away Saturday (September 16, 2023) at her home.
She was born November 11, 1939 in Birmingham, daughter of the late Ralph W. Shipman and Margaret M. (Myers) Shipman.
A 1957 graduate of Madison High School, Audrey was a homemaker who enjoyed quilting and baking bread – especially for the church, where she was known as "The Bread Lady".
She was a member of the Assembly of God Church for over fifty years and taught Sunday School there.
Everyone who knew her affectionately called her "Nanny".
In addition to her parents, she was preceded in death by her husband, Jerry G. Dyer, whom passed away January 19, 2019. They were married August 12, 1961. Also deceased are her sisters, Clea Anna Helmlinger and Sandy Cosgrave; and her brother, Kenny Shipman.
Audrey is survived by four sons, J.D. (and his wife, Melissa) Dyer of Byesville, Steve (and his wife, Cassy) Dyer of Byesville, Matt (and his wife, Abby) Dyer of Columbus, and Adam (and his wife, Holly) Dyer of Old Washington; her daughter, Susan (and her husband, Cap) Zaleski of Massillon; three brothers, Willard (and his wife, Judy) Shipman of Cambridge, Donald (and his wife, Barb) Shipman of Antrim, and Ed (and his wife, Eunice) Shipman of Wapakoneta; a sister, Neoma Konicek of Iowa; three sisters-in-law, Debbie Shipman, Susan Dyer, and Rebecca Dyer; eleven grandchildren; and a great-grandchild on the way in November to be named Audrey.
Visitation will be held Tuesday (September 19, 2023) from 5 p.m. to 8 p.m. at Black-Epperson Funeral Home, Byesville, where funeral services will be held Wednesday (September 20, 2023) at 11 a.m. with Pastor Heath Dawson officiating.
Burial will be at Clearfork Cemetery.
Personal condolences may be extended to the family by visiting www.black-eppersonfuneralhomes.com