Cram the Cruiser Food Drive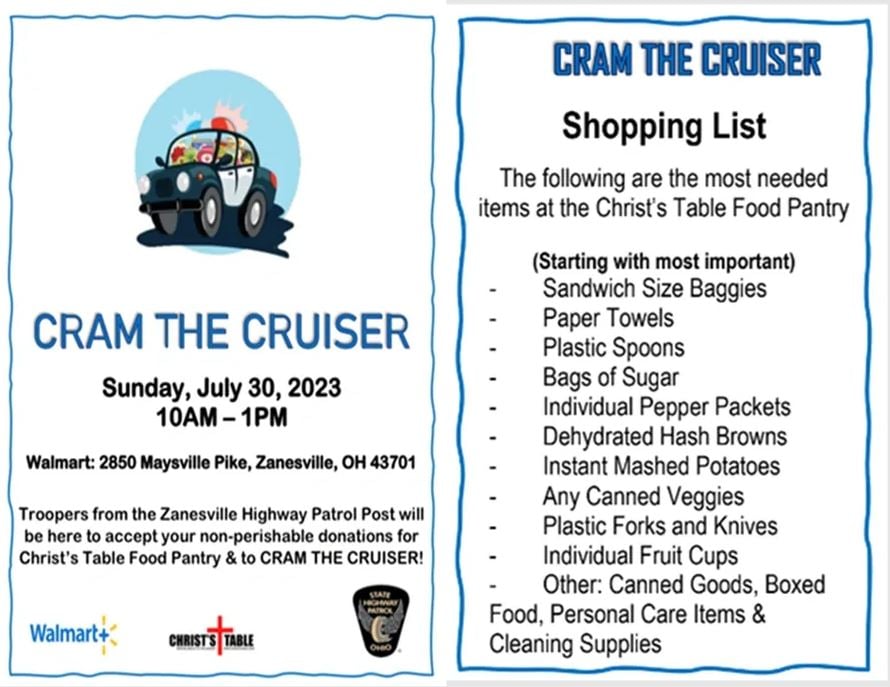 ZANESVILLE, OH- The Zanesville Highway Patrol Post is teaming up with Walmart to host their "Cram the Cruiser" food drive event on Sunday to support Christ's Table in Zanesville.
Troopers will be on site to help collect items donated. The items that can be donated are cleaning supplies, non-perishable food items, paper products and personal care items.
"The State Highway Patrol will be there with officers present along with Christ's Table and we've partnered with Walmart for a chance to do a Cram the Cruiser event, we're going to be collecting canned goods, non-perishable food items to donate back to Christ's Table, the local food pantry here in Zanesville," said Lieutenant Kristi Mistovich.
All donations that are received during the event will be given to Christ's Table to help those who are in need.
"We're excited about it, Christ's Table and Walmart I think it's just kind of a way to generate some positivity amongst the community, even more so maybe some perception with local law enforcement and State Highway Patrol, so we're really excited about that partnership and it's a chance to give back, because I believe having that point of impact with you community is important to fostering that positivity to our local community and to the people that we serve," said Mistovich.
The "Cram the Cruiser" event will be taking place from 10 a.m. until 1 p.m. at the Walmart on Maysville Pike in Zanesville. You don't want to miss out on this opportunity to help out the community with the Highway State Patrol.