Elaine Cale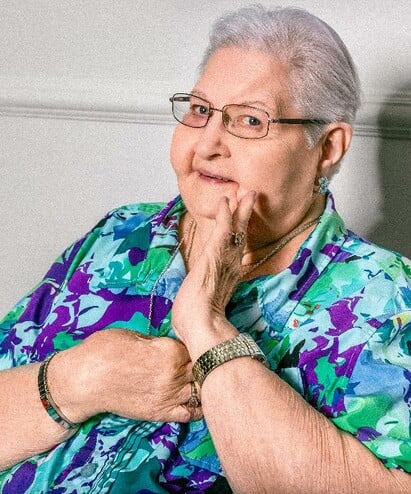 Elaine Dolores Cale, 94, of Zanesville, died peacefully after a brief illness at 6:00 P.M. Saturday, September 16, 2023 at the Cedar Hill Care Center, surrounded by three generations of her loving family.
She was born on April 9, 1929 in Royal Oak, MI, the daughter of the late Paul Leo Wangler and the late Elsie Louise McFadden Wangler. She graduated from Rochester High School in Rochester, MI. She met and married the late Merlin Dale Cale in 1952 and the couple settled in Zanesville, where they raised their five children. Elaine worked at the Muskingum County Health Department as a home health aide once her children reached adulthood. She enjoyed painting, reading and travel. Elaine was a member of Cornerstone Full Gospel Church where she would attend Bible study.
She is survived by her children and their spouses; Robert Gary and Judy, Dale Alan and Becky, Bruce David and Ellen, Randy Lee and Judy, and Diana Lynn; grandchildren, Christine, Caroline, James, Emily, Ethan, Mollie, Andrew, Jeremy, Ariane, Ryan, Caitlin, Justin, Leigh, Jennifer, Elizabeth and their spouses and children, as well as a niece, Melissa Paap, and a nephew, Mark Cale.
Visitation will be from 4:00 to 6:00 P.M. on Thursday, September 21, 2023 at the Bryan & Hardwick Funeral Home where funeral service will be held at 6:00 P.M. with her daughter-in-law, Rev. Ellen Swinford, officiating. Burial will be held at a later date at the White Chapel Memorial Cemetery, 621 West Long Lake Rd. Troy, Michigan 48098-4597.
In lieu of flowers, memorial contributions can be made to the Animal Shelter Society, Inc. 1430 Newark Road Zanesville, Ohio 43701.
The Bryan & Hardwick Funeral Home, 2318 Maple Ave. Zanesville is in charge of the arrangements. To share memories and condolences with Elaine's family please visit www.BryanHardwickFH.com.