First Round Pick Fantilli Shines In Blue Jackets Development Camp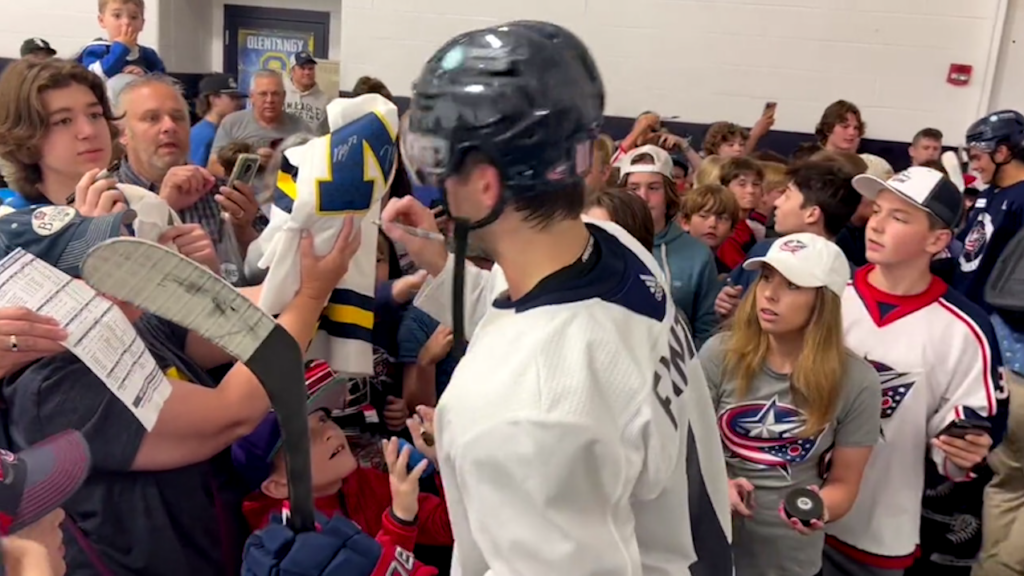 LEWIS CENTER, OH- Hockey may not be the first sport that comes to mind in the month of July. However the Columbus Blue Jackets wrapped up their final day of the 2023 Development Camp.
Fans poured into Chiller North on one of the hottest days of summer to watch the new youth movement of the Blue Jackets. Seven 2023 draft picks from last week were showcasing their skills on the ice. Lots of eyes were on first round pick Adam Fantilli on the final day. "I remember being a kid out there in Toronto and having guys come through there and I'd always want to stop and take pictures with them and watch them play. Happy I can be able to be that kind of guy and be able to kind of return the favor and spend some time with kids like that also. The warm welcome has been amazing and couldn't appreciate it more. Super excited to get back here in the fall." Fantilli said.
Fantilli didn't disappoint in the prospect scrimmage game. He tallied four goals including a hat trick in the first period. It's been a busy first week for the 18 year old kid from Nobleton, Ontario. "I'm trying to decompress for a little bit but it's been a lot of fun, it's been a whirlwind. I mean I'm going to the draft, coming here and signing was obviously surreal for me and to have my dad there was awesome. I'm super excited to get back home and visit my family for a little bit." Said Fantilli.
With being the third overall pick, expectations are through the roof heading into his first season in Columbus. "Try to have fun and put your best foot forward. Maybe meet some guys you might not have met before. I know other guys have been to two, maybe three dev camps before me; so I was trying to learn from those guys as well and take advice from those guys. Just being here trying to be as much of a leader I can be and lead in drills as well. It's my first one. I tried to take everything I learned as much as I could so I had a lot of fun, hopefully next year will be just as fun." Fantilli stated.
2022 draft pick Denton Mateychuk lit up the WHL with 65 points in 63 games. With one year left before making it to Columbus, the projected high end defenseman reflected on the differences between his first two camps. "Last year I didn't really know what to expect coming to my first NHL camp. I was riding the high of the draft. It was kind of a surreal moment to put on the jersey and all that. I feel like this year around I've mostly matured and have started trying to take steps towards getting to that NHL level. So I think I just had a better mindset coming in and I think it was really good." Said Mateychuk.
For now, these prospects will go back to trading their skates for flip flops and enjoy the rest of their summers before fall camp begin. The Blue Jackets will open the season on Thursday, October 12th. That also happens to be Adam Fantilli's 19th birthday and projected NHL debut.