Fresh Produce Market Giveaway: Pre-Registration Open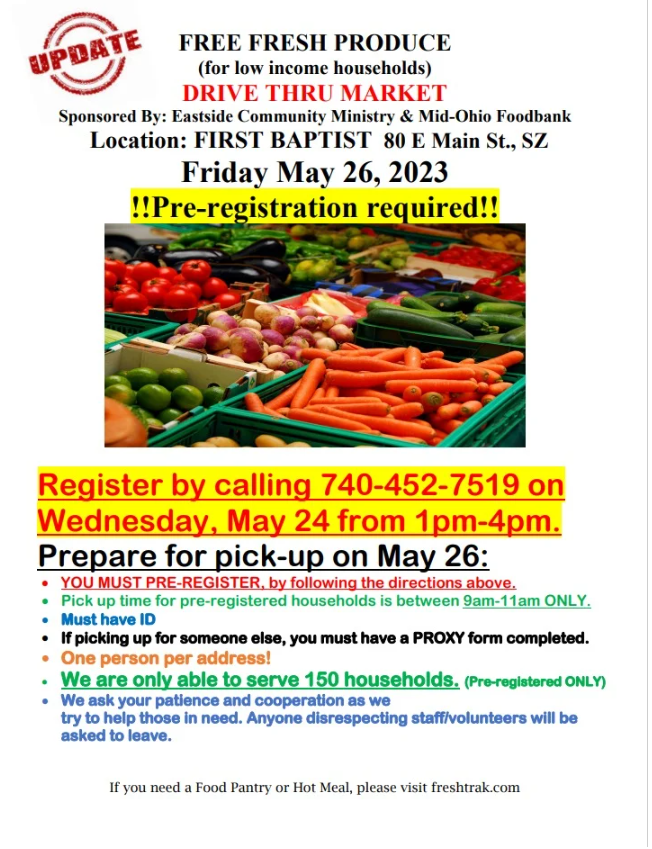 Pre-registration is opening Wednesday for a local fresh produce giveaway.
The Eastside Community Ministry is hosting a free fresh produce giveaway. Executive Director Jamie Trout had a chance to remind everyone of pre-registration for the event that is being held on May 26, between 9a-11AM in the morning.
"We will be pre-registering for our free fresh produce market, this is the first time that we have done this so it's really important that people call on Wednesday May 24th between 1pm to 4pm for registration," Trout said.
Due to the decrease in goods provided, the registration is only available to 150 households. The market is providing free fresh produce to all who pre-registered by drive-thru. Trout continued to explain what all produce will be available and how impactful this will be to the local community.
"We will receive our produce from Mid-Ohio Food Bank out of Columbus and it's kind of a surprise for us but usually we get anywhere from potatoes to fresh vegetables and fruit. Sometimes we will get deserts. We know the need is out there, unfortunately a lot of times we can't fulfill everybody's needs so to have something that can help 150 households I think it just impacts our community in a great way," Trout explained.
Households that qualify for the free Fresh Produce Giveaway held by the Eastside Community Ministry can pre-register Wednesday by calling 740-452-7519. If you are in need of a food pantry or a hot meal, please visit FreshTrak.com to see the assistance available to you in your area.