Genesis Hospital has the 1st ORBEYE in the state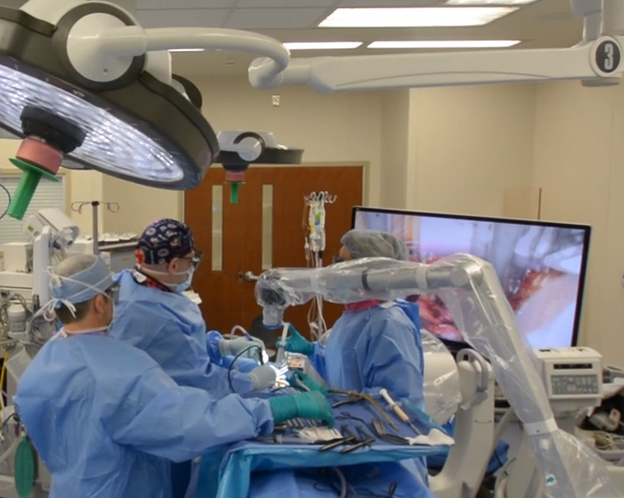 ZANESVILLE, Ohio – Genesis Hospital recently got an incredible new instrument for advanced surgeries, and both surgeons and patients are benefiting from it.
Genesis is the first hospital in Ohio to use the ORBEYE, a 4K – 3 D microscope that allows doctors to view the image on a 55-inch monitor. Genesis Staff Physician and Neurosurgeon, Yasu Harasaki said the ORBEYE takes a lot of stress off doctors eyes, and it allows them to see the surgery on a much bigger scale.
"For one thing, it cuts down on surgeon fatigue and the other thing that is a real bonus is the image that I am seeing is actually projected on a large screen for everybody in the operating room to see. So, they can see what is going on in the surgery and they can actually anticipate what the needs of the surgery are and the patient are during the surgery." Harasaki added.
Genesis has been using the ORBEYE since the end of May and Harasaki said they are getting great use out of it. He said because it is so much smaller than their old operative microscopes, they seem to be using it for a lot more surgeries.
"So basically any surgical specialty that uses microscopes can use the ORBEYE and the main specialties that I think you would use microscopes are specialties like plastic surgery, hand surgery, ear, nose, throat doctors use them. Cardiothoracic surgeons use them and we are just starting to adopt it for other specialties here and right now we've sort of taken the lead in starting to use this for both brain and spine surgeries," said Harasaki.
Harasaki said the surgery the ORBEYE helps him with most is minimally invasive spine surgeries because it helps locate the fine structures.