Get Ready to Splatter! ZHS Dance Team to Host Fundraiser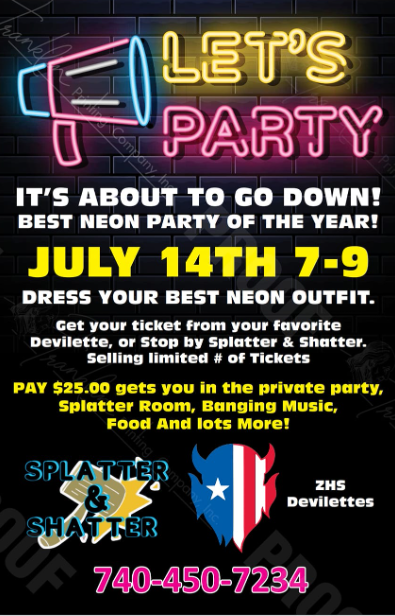 ZANESVILLE, OH – Support the Zanesville High School dance team from by purchasing a ticket to a fundraising event hosted by Splatter and Shatter at the Colony Square Mall.
Participants will dress in ponchos, goggles and shoe covers before splattering paint on a canvas in the neon room. Dance instructor Lamia Mayle said proceeds from the event will go toward the Devilettes's new uniforms.
"So this is giving us an opportunity to raise money for a new uniform. So right now we are like 15, uniform short, how many girls that we have this year and then also raising money just to keep in our boosters for like our Friday meals and things like that. So I appreciated that they reached out to us especially than being a local business, because we're kind of helping each other each other out," Mayle explained.
Amy Poulton is the owner of Splatter and Shatter and she says the collaboration brings new people to her fun small business.
"Bringing something new to the community, entertainment wise for the kids. And we have different things out there. We have ceramics that they can paint at any time. We've hosted a lot of different parties for different people around for this shatter room. That's exciting. They really love it back there," Poulton said.
Tickets are $25. The event runs from 7 to 9 p.m. on July 14th. To purchase or to sponsor a child, reach out to a Devilette or contact Splatter and Shatter directly.
Submitted by Alison Patton, WHIZ Intern Reporter