Harry Hewitt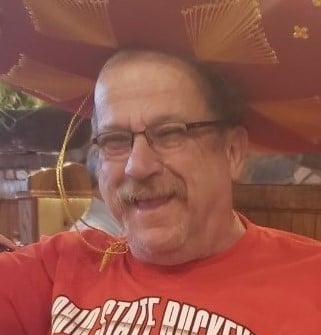 Harry Thomas Hewitt "Harry T, Tom, Harv, Grandpa" age 74 of Zanesville, passed away Sunday, July 2, 2023, at his home surrounded by his family. Harry was born May 18, 1949, to the late Harry Paul and Geneva (Wheeler) Hewitt. He was a die-hard Ohio State Buckeyes fan and loved when football season rolled around so he could watch the games with his sons, (even though he could never quite remember who the quarterback was that year).
Harry worked for The Longaberger Company for 14 years, Good Samaritan Hospital for 30+ years and finally retiring from The Genesis Surgery Center following 11 years of service.
He is survived by his beloved wife, Brenda Hewitt. They would have celebrated their 46th wedding anniversary in September. He is also survived by his sons Thomas (Karen) Hewitt of Glen Burnie, Maryland, Shane (Amy) Hewitt of Zanesville and Paul (Michele) Adams of Tucson, Arizona; two daughters, Misty (Larry) Wolford and Amanda (Norm) Hewitt both of Zanesville; his grandchildren who were the pride of his life and what kept him feeling young, Katrina and Terrell Hewitt, Isabella, Sophia and Adric Hewitt, Shaun and Brady Adams, Landon Scheffler and Forrest Tabler, Shawn, Jeff and Austin Wolford; as well as his Great-Grandchildren; sisters, Linda Shinn and Barbara West; brothers in law, Dave Allton and Rodney McCoy and countless nieces and nephews. And we can't forget his K9 companions RJ, Walter and Shilo (or as Tom called him Arlo).
He is preceded in death by his mother and father, Harry Paul and Geneva Hewitt; brother, Kenny Hewitt, his wife's parents, Gerald and Margaret Allton; three brothers in law, Forrest Allton, Kenny West and Robert "Bob" Shinn and a sister in law, Patty McCoy.
Tom truly lived life to the fullest and never missed an opportunity to have fun and the occasional 32oz steak. He enjoyed nothing more than knowing that his family, especially his grandchildren, needed him even if it meant just a ride home from school or work. He was looking forward to attending his oldest, granddaughter Katrina's wedding in Maryland in September and spending time with his family. We know he will be there in Spirit.
Dad always said dress for the occasion you will be attending so, to honor him, we would like to ask everyone to dress in their Saturday and Sunday football best. Buckeyes and Browns attire if you would like.
Friends may call 2:00 to 4:00 and 6:00 to 8:00 PM, Monday, July 10, 2023, at the Hillis, Combs & Nestor Funeral Home, 935 Forest Avenue, Zanesville. Funeral Services will be held 11:00 AM, Tuesday, July 11, 2023, at the funeral home with Tom Hewitt and Pastor John Alice co-officiating. Harry will be laid to rest in Rose Hill Cemetery, Roseville. To sign the online guestbook or leave a personal note of condolence please visit www.hilliscombsnestor.com.