Helena "Sylvia" Wheeler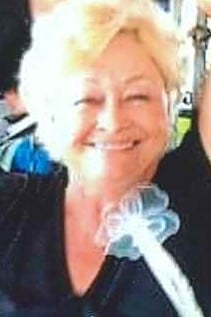 Helena "Sylvia" Jean Wheeler, 79 of Hobe Sound, Florida, passed away May 12, 2023, after a long battle with Alzheimer's. She was born August 23, 1943 in Riddlesburg, PA to the late Harry and Viola Swope. Sylvia, as she was known to friends and family, married Larry C. Wheeler of Zanesville, OH. She was a loving wife, mother, grandmother and great grandmother, that loved her family above all else. Her love of family and care for all around her as if she was a mother to the world was a defining characteristic.
Sylvia lived a full life traveling the world. She had the ability to light up a room and grab opportunities to try something new and make new friends whenever possible.
She was a member of Holy Spirit Lutheran Church in Juno Beach, FL. She was also a past member of the Fraternal Order of Eagles Aerie #302, American Legion Auxiliary of Zanesville and the Muskingum County Center for Seniors. She enjoyed dancing, playing cards, golfing and bingo. She never met a stranger with her outgoing personality.
She is survived by husband Larry Wheeler; four children: Dawn Wright of Rochester, NH, Richard (Shie) Wright of Hobe Sound, FL, Janie Wheeler of Zanesville, OH and Don Wheeler of Gahanna, OH; three sisters: Shirley, Patty and Darlene; seven grandchildren: Tommy, Chelle, Robin of Rochester, NH, Taiyo of Hobe Sound, FL, and Madison, Dylan and Elijah of Zanesville, OH; and many great grandchildren that she adored as if they were her own children.
In addition to her parents, she was preceded in death by the following siblings: Eugene, Ronald, James, Debbie, Kathy and Randy.
A Celebration of Life will be held at 10AM Saturday, August 12, 2023 at the St. John's Lutheran Church Stovertown, OH with Rev. Al Laese officiating. A gathering will follow the services.
To send a note of condolence to the family go to www.snoufferfuneralhome.com, find us on Facebook or call our locally owned caring staff at 740-450-8000.