Legislative Update Breakfast at Eaglesticks Golf Club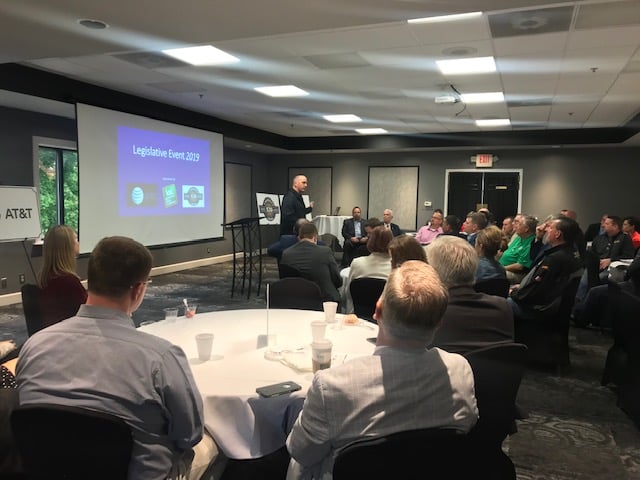 ZANESVILLE, Ohio – Local business owners and community leaders gathered together this morning to speak with State Legislators.
U.S. Congressman Bill Johnson ( R ) 6th District, U.S. Congressman Troy Balderson ( R ) 12th District, Ohio State Representative Adam Holmes ( R ) 97th District and Ohio Senator Tim Schaffer ( R ) 77th District gave updates to those in attendance about what they are working on to improve the community. One main topic discussed was infrastructure problems within the community and how they plan to solve these issues.
"We're talking about infrastructure. We've got roads and bridges that need to be replaced and repaired, we've got water and sewer systems that need to be replaced and repaired," Congressman Bill Johnson said.
Congressman Troy Balderson said, "It's good for us to as legislators to be able to communicate and work with the folks that are out there on a daily basis and see things that are happening."
Balderson currently serves on the House Transportation and Infrastructure Committee. Another top priority that Ohio State Rep. Adam Holmes discussed at breakfast was the opioid epidemic.
"Our number one problem is the opioid crisis and we all know that but now is the time to really address it and attack it. Not only from a business perspective and a tax dollar perspective because it's very expensive to handle, from a moral perspective and a decency, we really need to take care of those folks," Holmes said. "So it's a two part solution that we're looking to achieve."
He said some of the ways to decrease the opioid epidemic would include, working with schools to provide help to children who are risk, re-addressing the pharmaceutical approach to handling distribution and management of pain medicines and taking preventive measure by stopping the next generation or anyone who is at risk of using from ever starting.
The event was sponsered by AT&T, Kessler Sign Company and Larborer's Local 530.