Local Athletes Compete in State Track and Field Finals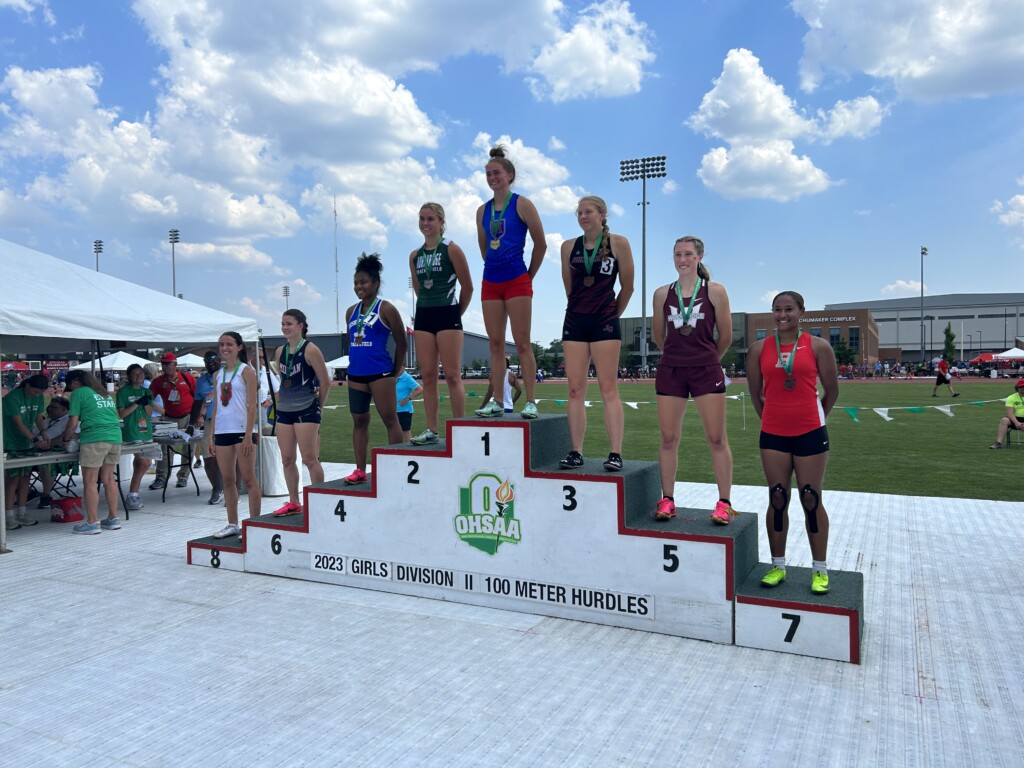 COLUMBUS, OH- Anytime there is an opportunity to turn a dream into a reality, a lot of emotions come into play. The OHSAA State Track and Field Finals were today at Ohio State. The local area was represented well sending many girl runners to the big event.
We start off by taking a glance at earlier in the morning where West Muskingum's Rebecca Strunk placed 5th in shot put. It was an amazing accomplishment and she also achieved All Ohio.
Kara Fields of John Glenn and Odessa Smith of Morgan competed in the 100 meter hurdles. It was Juliette Laracuente-Huebner who finished in first place with a blazing time of 13.64. Fields placed third in the race and had a time of 14.66. Smith had a 14.78 giving her the 6th place finish. Fields was impressed by her finish.
"Pretty crazy because last week I pr'd by half a second and that was unexpected so I thought I'd be towards the bottom of the podium. It's pretty sweet to be at the top. I don't know it's pretty cool to come back to back because last year was my first year hurdling so to only hurdle two years and make it to state both years is pretty awesome, all glory to God there." Kara Fields stated.
Fellow John Glenn teammate Jessica Church was the lone local representative in the 400 meter dash. Last year she just missed the big event and felt good going into the event. However for her, some early race cramping hurt her time and her finish. She placed 8th with a time of 1 minute.
"I'm happy about getting all Ohio but I'm kind of disappointed, I kind of ran out of air and started cramping there on the back stretch. I was hoping for a better finish, but learn and improve off it. It's a great improvement, shows signs that I'm getting better going from 15th to 8th, I'm happy about it." Said Church.
Odessa Smith competed in her second event of the day, this one being the 300 meter hurdles. She was accompanied by Claire Shriner of Sheridan. The two upperclassmen are familiar with competing together. Smith finished in fifth place and Shriner came in seventh. Both runners reflected on their days.
"Honestly I was a little bit disappointed with the placement I got in the 100 hurdles, but my time I was really okay with. Obviously I go through high school and times keep getting harder and harder. Then for the 300 I was really happy with my time because I've never broken 45 before. I mean 44.95 is not far from it, but I'm very pleased I got that. That was my goal for the end of high school so I'm pleased with that." Smith said. "I'm so grateful, this is my third year getting to come to state. Every year the competition is crazy. My goal was to be top 8 and I got it." Said Shriner.