Mary Mildred Marshall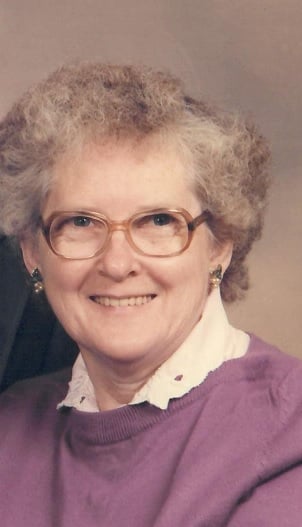 Mary Mildred Marshall, 95, of New Concord, passed away peacefully on Saturday, July 8, at the Beckett House in New Concord, with her three children at her bedside. Mildred experienced a fall, at her home, in June; was admitted to Genesis Hospital for treatment, and later discharged to the Beckett House for rehab.
Mildred was born on September 25, 1927 to the late George Willis and Estella Gertrude (Warne) Willis. Both of her parents had previously been married; both their spouses died young and both had a son from their first marriage: Ralph Willis and Raymond Dyer.
Mildred graduated from Madison High School (home of the Eagles) in 1944 and then attended Cambridge Business College for seven months. Mildred worked at Fletcher Army Hospital, in Cambridge, until the war ended, then she was employed at Soil Conservation Services for several months and then worked at Thompson's Feed Mill, in Cambridge, for six years.
Mildred married John Roy Marshall, of New Concord, on April 12, 1952 at the parsonage of the first Methodist Church in Cambridge, with the groom's sister and brother-in-law (Ethel and Nathan Montgomery) acting as witnesses. After their marriage Mildred became a devoted and loving wife, supporting Roy in his work/career as a farmer, school bus driver AND Adams Township Trustee; she also became the bookkeeper/accountant for her family, keeping meticulous records of everything involved in running a family farm. Mildred was also a loving and supportive mother to their four children; closely following their activities, achievements and careers and much later, followed and celebrated the careers/accomplishments of her five grandchildren as well. In addition to her family, she also maintained several close friendships (many of whom were lifelong friends) and mourned the loss of each, as she experienced their deaths, over time.
Mildred is survived by three of her children; John (Sandy) Marshall of New Concord, Janet (Jeremy) Brockwell of Cambridge, and Beverly Marshall of Zanesville, her son-in-law- William (Debbie) Barber, of New Concord, her five grandchildren; Ryan (Jodi) Marshall of Thornville, Lee Barber of Baltimore, Lindsay (Marc) Barber of Columbus, Jamie Allen of New Concord, and Amanda Vordenberg of Cincinnati and her seven great-grandchildren; Kaiden Walls, Jase Allen, Baylee and Griffin Vordenberg, Maeve and Liam Barber and Aubree Clendenning. Mildred is also survived by several nieces and nephews.
In addition to her parents, she was preceded in death by her brothers and sister-in-laws; Ralph (Chloe) Willis, Raymond (Hazel) Dyer, and Roy's siblings and their spouses; Chris and Mary (Marshall) Pidcock (2001, 1998), Nathan and Ethel (Marshall) Montgomery (2010, 2015) and Jim and Martha (Marshall) McCall (2023-1976), her nieces; Martha Jean (Pidcock) Nelson (2013), Betty (Pidcock) Clark (2013), her daughter; Vivian K. Barber (2008) and her loving husband, John Roy Marshall (2017).
The family would like to express their heartfelt gratitude to the staff at Genesis Hospital (Three East) and the Beckett House for taking such good care of mom during her final weeks.
Friends and family may call from 10:30 am to 12 pm on Wednesday, July 12, 2023, at the Farus Funeral Home, 63 West Main Street, New Concord, Ohio, where funeral services will follow at 12 pm with Pastor Tim Pollock officiating. She will be laid to rest beside her husband in the Bloomfield Cemetery.