Mary Sue Matheney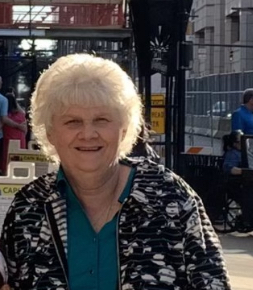 Mary Sue Matheney,67, of Malta peacefully passed away at her residence on May 31, 2023.
She was born on June 9, 1955 in Zanesville to the late Kenneth Paul and Mildred Yvonne Carr Sidwell. She was a 1973 graduate of Morgan High School, attended Trinity United Methodist Church, and taught pre-school for 31 years at the Play and Learn School in Malta. Mary Sue had a tremendous love for her family, enjoyed cooking, cheering for The Ohio State Buckeyes, and hosting family gatherings. Mary Sue was a friend to everyone and always had a smile on her face.
She is survived by her daughter Meggie (Jason) Kuhn, two sisters: Jan (Tom) Butler and Mayme Beth Sidwell, three grandchildren: Emma Kuhn (9), Abby Kuhn (7), and Alex Kuhn (4), a nephew Josh Snouffer, a great-niece Rebecca Snouffer, and a great-nephew Lucas Snouffer.
In addition to her parents she was preceded in death by her brother-in-law Dana Snouffer.
Calling Hours will be from 2-4 and 6-8pm on Saturday June 3 at THE SNOUFFER FUNERAL HOME 1150 WEST MILITARY ROAD ZANESVILLE. Funeral services will be held at 1pm Sunday in the Snouffer Chapel with Rev. Jeff Belt officiating. Burial will follow in McConnelsville Cemetery. To send a note of condolence to the family visit www.snoufferfuneralhome.com, find us on facebook, or call our caring staff at 740-450-8000.