Molly Smith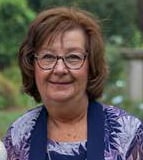 Molly S. (Burns) Smith, age 65 of Zanesville, Ohio passed away at 2:20am on July 8th, 2023, after a brief stay at Genesis Morrison House. She was born in Zanesville on September 15, 1957, to William "Bill" Burns Jr. and Constance "Connie" (Carter) Burns. She had one sister, Julie (Burns) Cater, now of Hilliard, Ohio. Molly married her husband David Smith on February 19, 1994.
Molly graduated from West Muskingum High School in 1975. Following graduation she served 4 years in the United States Air Force. After her time in the military, she attended Muskingum Area Technical College and earned an Associates Degree in accounting. She worked at a few places around the Zanesville area, including Sunny View Nursing Home and Stewart Glapat Corporation.
Molly was involved in Zanesville Band Boosters when her kids were in school, and was very involved in her church, Central Trinity United Methodist. She enjoyed cooking, knitting, and gardening and leaves behind beautiful projects and flower pots. No one dared to leave her house hungry after a meal.
Molly is survived by several loved ones including her mother, Connie, her husband, David, son Ryan (Jamie) Dulin, stepson Brandon Smith, and daughter Jamie Smith (Kyle Ellis), grandchildren Jack & Ava Dulin, her sister, Julie, nieces Taylor and Paige Cater, her Aunt and Uncle Jan (Carter) and Jim Lucas, along with special grandpups Maggie, Gracie, and Rosie. Molly is preceded in death by her father, Bill Burns and niece Lindsay Cater.
The family would like to thank Genesis Morrison House for their kindness and expert care while Molly was with them.
Friends and family may call from 11:00 A.M. until time of service at 1:00 P.M. on Wednesday, July 12, 2023, at Central Trinity United Methodist Church, 62 South 7th Street Zanesville, Ohio 43701 with Pastor Jon Exman officiating. She will be laid to rest at Zanesville Memorial Park Cemetery, Zanesville.
To send a note of condolence, or to order flowers or comfort food: visit www.bolin-dierkesfuneralhome.com, follow us on Facebook, or call our professional staff at (740)452-4551.