Paul's Farm Market Turns 75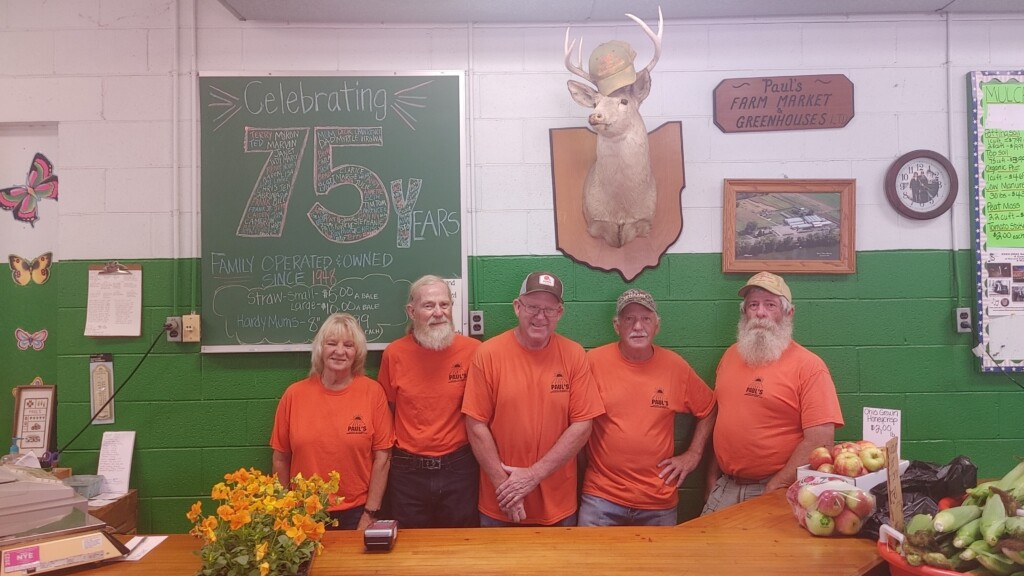 ZANESVILLE, Ohio – Many veterans returned home, after serving our nation during World War Two, to start families and create businesses that are still operating today. 
One such business is Paul's Farm Market, which is located along State Route 60, just south of Zanesville. 2023 marks the 75th anniversary of the family business that has not only kept up with the changing times but kept many of the old-school principles and neighborly charm.
"The customers we have, kind of sense this. They know that we're the people that have grown this fruit or grown this flower and they take time to ask us different questions or different things or when this crop will be ready. And I think having been born here and raised here, I think that's where we all benefit, you know, in this operation," Co-Owner Terry Paul said.
The business has expanded over the years from selling seasonal produce to building greenhouses and growing flowers in the wintertime. 
Paul's is open from April through late November, with Mothers Day flowers being the biggest moneymaker and fall apples, pumpkins and gourds being very popular too. 
"We have our own orchard and I think that's where my dad looked at that and my grandfather grew one of the biggest orchards in this area. And so he grew (up), you know he met my mom and they grew up together. And he seen how the orchard was run and that. And what he grew also in the tomatoes and some of the other vegetables and other fruits that he grew. I think he looked at that as something he wanted to be able to reach out and do also," Co-Worker Marvin Paul said.
75-years-ago State Route 60 was known as Route 77 and was a dangerous two-lane highway with several produce vendors between Zanesville and Duncan Falls. Now, there's a four-lane highway surrounded by new structures and convenient parking. Another innovation that Paul's uses is the internet, where you can keep up with what they have available on their Facebook page.