Retired Vice Admiral Albert Calland Honored At Z.H.S.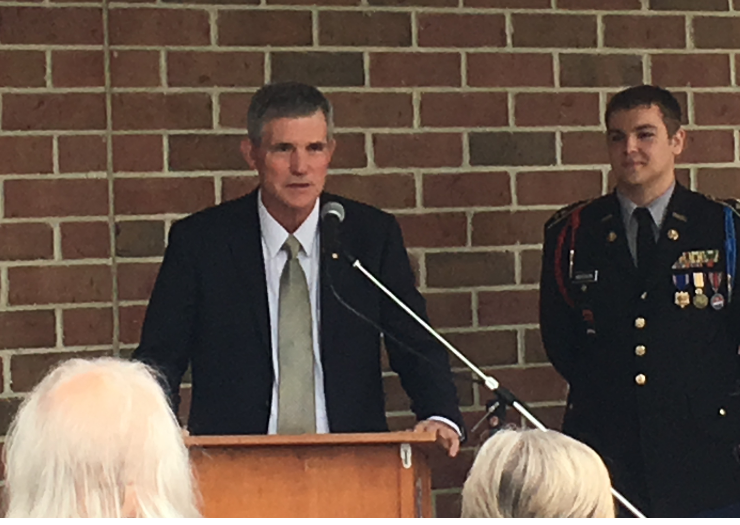 Retired Vice Admiral, Albert Calland spoke Friday evening at Zanesville High School, to tell his story and reveal a tribute right outside the school.
This ceremony was to raise money for the J.R.O.T.C program at Zanesville High School. Calland said, he came to tell his story and interact with not only the cadets, but with people in and around town. Vice Admiral Albert Calland had an amazing career as a Navy SEAL, Commanded SEAL Team One and was even the Deputy Director of the Central Intelligence Agency. He said looking back on his career, the most memorable part was the feeling of becoming a Navy SEAL.
Calland said "The biggest achievement starts at the beginning really I mean. My ability to be able to make it through the initial SEAL training is really a difficult challenge. We started with about 50 or 60 people and graduated with 11 in 6 months period."
Vice Admiral Calland also said it was great to be back in town to see some members from his graduating class of 1970 at Z.H.S. He said he remembers teammates, classmates, and memories made with them back then. Co-chair of the event Ron Bucci said it's an honor to have him back in Zanesville to speak at this event.
"Tonight, we are honoring one of our favorite fellow alumni, Vice Admiral Bert Calland who graduated in 1970. He went on to be Director of the C.I.A and he has done so many wonderful things for our country." Bucci added "He is one of the kindest, nicest gentleman you're ever going to meet. In fact, talking to someone who served under Calland he said "Ron, he was a soldiers dream commander. He was so kind, so nice, a great leader, and somebody everybody wanted to follow.""
The J.R.O.T.C has a new tribute screen that shows soldiers names from Zanesville that made the ultimate sacrifice for this country. Vice Admiral Calland revealed the honor board today, and the names on the board date back as far as the Civil War.