Ribbon Cutting Ceremony for an Expanding Business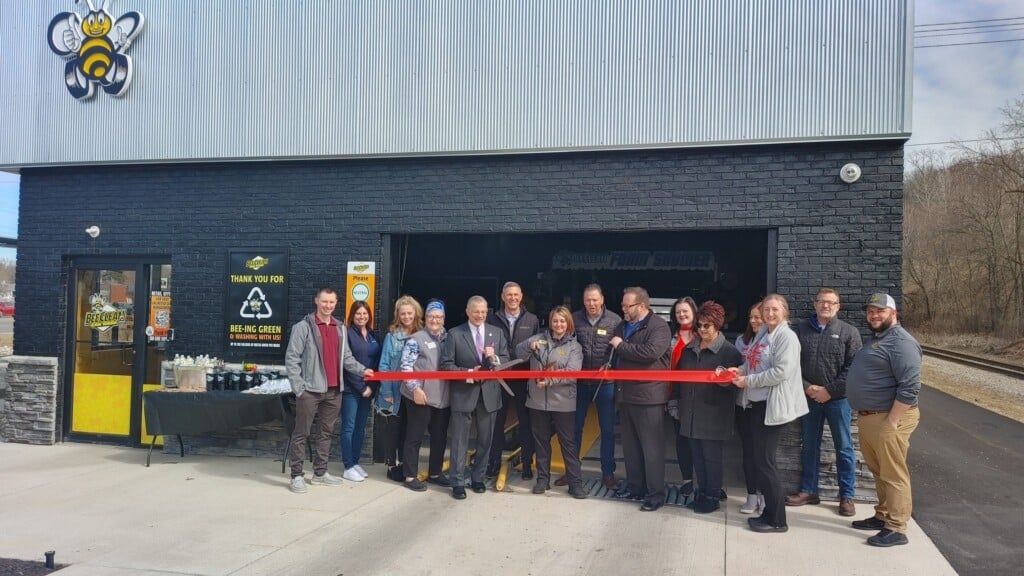 ZANESVILLE, Ohio – The Zanesville Muskingum County Chamber of Commerce performed a ribbon cutting ceremony this morning to welcome an expanding business.
Bee Clean Express Car Wash opened a new location this morning at 1850 Maysville Avenue, near the intersection with Pine Street. 
Express Wash Concepts' CEO John Roush detailed the connections they share with Zanesville and Muskingum County.
"We operate Moo Moo Express Carwash here in Columbus and Beau Hankinson and the Hankinson family have always built our washes for us. They were looking to exit the business and we love Zanesville and always loved the market but we stayed out because of him. And this is why we're here," Roush said.
Roush, who lives in Licking County, is familiar with the area and wants to be more involved.
"March 4, through March 13, we are doing a free wash here. So you get our very best wash for free," Roush said. "We will have a wonderful nonprofit here, The Working Wonder Women that are a conglomeration of five or six, good community, local charities. We're asking for a donation during that time. You can buy a $50 dollar gift card for $25 dollars. We are going to donate that whole $25 dollars to the ladies and they're going to be here putting a hand in your car. So bring in a $5, or a $10, or a $20, and we're going to get you a $20 carwash for free, for 10 days."
The company has invested around $1.5 Million dollars of state of the art equipment into the facility to provide a quality wash to everyone in the community.
"Obviously, with our footprint here, with two locations, we can be a leader here and take great care of customers on both the South and North sides of Zanesville. Our Unlimited Club is amazing and having two locations here is convenient for everyone. You could use this wash everyday," Roush said.