Robert Carter III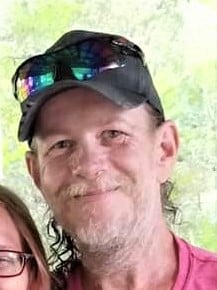 ZANESVILLE
Robert William Carter III, 48, passed away Tuesday, May 9, 2023, at Genesis Hospital. He was born December 14, 1974, in Zanesville to Robert William and Sara Green Carter Jr. He was a carpenter and well known throughout the area for his skills in construction of houses, plumbing, painting and furniture restoration. His grandchildren were his passion.
He is survived by his mother Sara Carter; his wife Dawn Stapleton Carter; four children: Kaylee (David) Gill, Austin Clark, Damion (Dennisha) Gosset and Nichole (Austin Currier) Gossett; three brothers: Shawn Green, Brian (Pam) Carter and Michael Carter; three sisters: Melissa (Ricky) Weaverling, Dee (Hobert) Drake and Terri (Randall) McCallister; and 16 grandchildren.
He was preceded in death by his father Robert William Carter Jr.
Memorial services will be held at a later date. THE SNOUFFER FUNERAL HOME, 1150 WEST MILITARY ROAD, has the distinct honor of serving the Carter family.
To send a note of condolence to the family, visit our website www.snoufferfuneralhome.com, like us on facebook or contact our locally owned caring staff at 740-450-8000.