Roseville Tornado Damage Updates and Community Reaction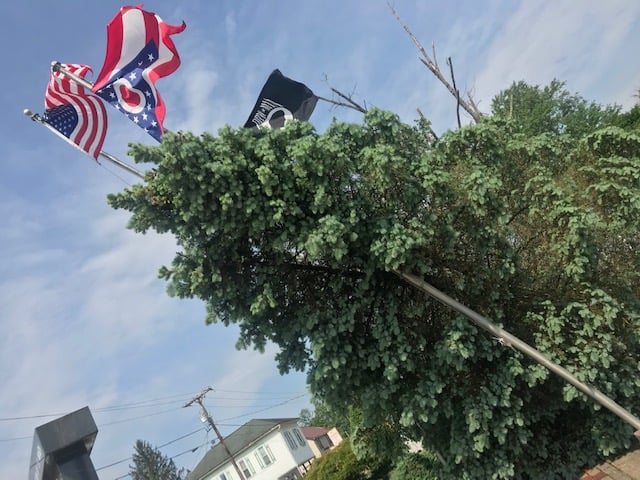 ROSEVILLE, Ohio – In Roseville there are homes now damaged, fallen trees blocking roads, and power lines hanging low. Community members continue to work together to clean it all up.
The Roseville community woke up, on Tuesday, May 28th, to chaos in their homes and throughout their neighborhood. The Weather Service has officially determined the cause was an EF1 Tornado. With some damages worse than others, people have been working tirelessly to clear the debris.
Joe Smith an employee at SNS Builders said, "We're just out here, basically trying to clean up the trees and everything. We're trying to get, from where the tornado took the top of the tree off, put it down here in the yard and we're trying to see what's all out here and tore up. There's damages to the shop up on top of the roof from where the next door neighbors tree hit it."
One family was trapped in their home, but was freed by first responders and were unharmed. EMA Director Jeff Jadwin said there are multiple streets in Roseville that are closed including Main Street, Cannelville Road, and East Athens Road.
"Probably 200 or more buildings and houses. Some of them can just be shingles and slate blown off, others are trees have fell through them, some are just heavily damaged. We've got an apartment building that's heavily damaged," Jadwin said. "AEP is working very diligently to restore power but there's even trees down on transmission lines coming into town so that creates a problem."
The EMA is warning residents to be careful and avoid areas with gas leaks or downed power lines. Fire Chief Derrick Keylor said they are in clean-up mode after the tornado that touched down overnight.
"At this point, we're not aware of any injuries or none that we have on paper or documented. We've had some gossip and rumor but nothing we've been able to pin down," Chief Keylor said. "We know that there are several homes damaged in various methods or ways in status. There are several homes that are damaged, at least an estimate would be at least four are not livable."
Chief Keylor said Roseville is split between Muskingum County and Perry County so there are multiple county employees working to get the community back to a normal state. There are neighbors helping neighbors and everyone else in between coming together to clean up.
Roseville Resident Tad Drake said, "After it went through at about 2:30 a.m. the whole neighborhood was out here. We were helping clean up branches and get the road cleaned up. I mean there were trash cans all over the place, branches all in the road so everybody has came together really great."
The community is rallying together to try and clean up the mess left behind. Working to turn this destruction back into their once beautiful home.