Seminar for Local First Responders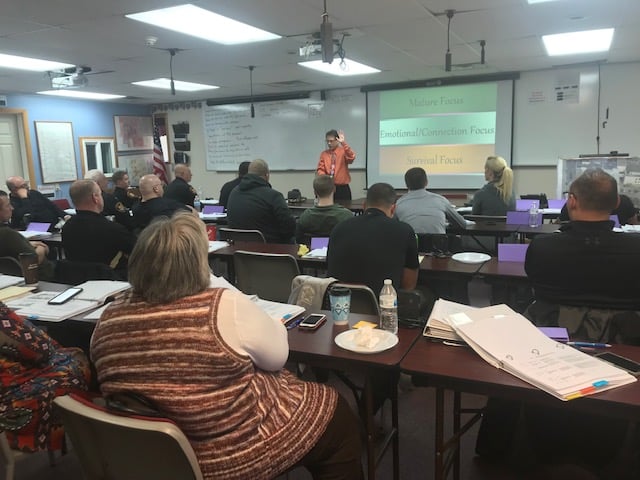 ZANESVILLE, Ohio – The Muskingum County Emergency Management Agency hosted a crisis intervention Tuesday, October 23rd for local first responders.
Jim Still-Pepper explained how to understand what goes on in the brain when it has experienced trauma. He said they talked in together and in groups about the three sections of the brain.
"The first part is the survival brain, the second part is the emotional brain and the third part is our mature brain," Still-Pepper said. "In a crisis we tend to respond with just our survival brain and so if the officers understand this then they can look for ways to create subtle points that will help the people that they are dealing with get to better functioning parts of their brain."
Still-Pepper said these classes are vital for officers because they are responding to people in crisis all the time and this will help them be in a better position to help. Sergeant Adam Newlon was one of the officers in attendance and said it is a common occurrence that they respond to these types of incidents so they need to know different techniques.
"De-escalation would be a good one to use to maybe get somebody to calm down from where they're at so that we could better help them," Newlon said.
He said that members of the community should try to look out for others and contact professionals if needed for help before a person can create a crisis situation. Paul Quinn, President of the local affiliate of National Alliance of Mental Illness, says he believes this is their 17th year holding the crisis intervention.
"When officers come upon someone who has a mental illness or maybe an addiction, they may not act like you expect them to," Quinn said. "Law enforcement officers are taught to get control of the situation and if someone with a mental health issue or an addiction, which sometimes drugs can look like a mental health issue, they may flee if they see law because of fear or it may not even register who they are. It's hard to tell where their brain might be."
The purpose of this is to help develop a better relationship between first responders and those they come across who may be mentally ill.