Teresa McLaughlin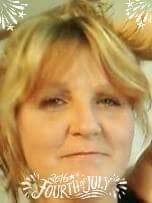 Teresa C. McLaughlin, 55, of Zanesville, formerly of Somerset, passed away Saturday May 20, 2023 at Genesis Hospital after a one and a half year struggle with cancer. She was born on June 3, 1967 in Lancaster, a daughter of the late Larry and Carolyn Brown. She is survived by her husband Brent McLaughlin, her current partner John Morehouse. Four daughters Tessa, Brentney, Trinda, and Blair McLaughlin. Four grandchildren Malachi, Carma, Emilee, and Aubrianna. Two great-grandchildren Lejend and Journee. One brother Paul "Butch" Brown. One sister Deana Brown. Many nieces, nephews, and loved by many who called her Mom or Grandma.
In addition to her parents, she was preceded in death by two sisters Debra Brown and Cindy Ferrell.
Friends may call from 2-4 & 6-9 p.m. Wednesday May 24, 2023 at William Thompson & Son Funeral Home 5765 Gladstone Drive White Cottage.