Terry Angles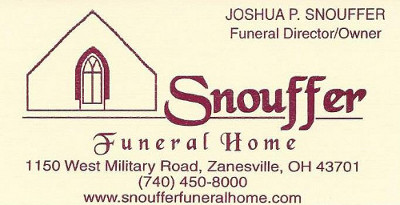 Terry L. Angles 65 of New Concord passed away Friday September 8, 2023 at Grant Medical center in Columbus. He was born December 17, 1957 in Zanesville a son of the late Danny E. and Norma Jean Moskovitch Angles. He had worked at Armco Steel and Haliburton and served his country in the United States Air Force. Terry was an outdoor guy who enjoyed fishing and hunting.
Surviving are his brother Danny Angles of Zanesville and his sister Beth Ann Angles Allen of Coshocton.
No services will be held at this time. THE SNOUFFER FUNERAL HOME, 1150 WEST MILITARY ROAD, ZANESVILLE has the distinct honor of serving the Angles family.
To send a note of condolence go to www.snoufferuneralhome.com, find us on Facebook or call our caring Locally owned staff at 740.450.8000.