Terry Requardt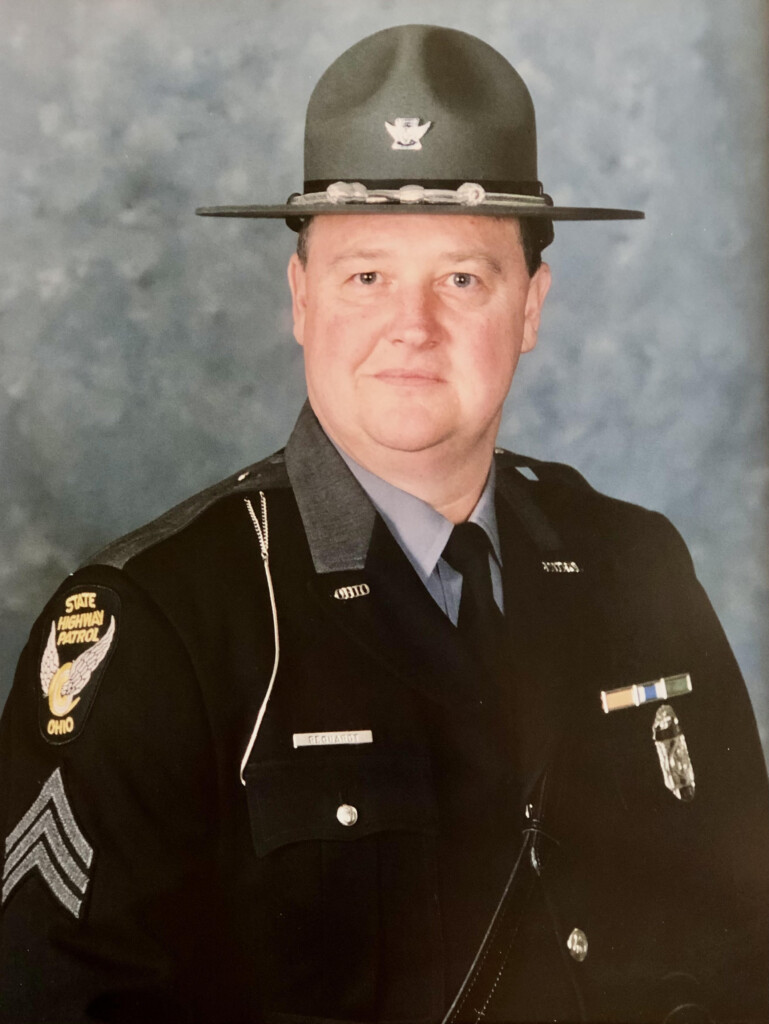 Terry H. Requardt, 72 of New Concord, passed away peacefully surrounded by his loving family on May 30, 2023 at Genesis Healthcare System in Zanesville.
Terry was born in Covington, Kentucky on May 18, 1951. He is the son of Howard A. and the late Loraine (Gooch) Requardt. Terry was a 1969 graduate of Dixie Heights High School in Edgewood, KY; 1972 alumnus of Eastern Kentucky University with an Associate Degree in Recreation and later that same year completed Ohio State Highway Patrol Academy. Terry retired in 2001 from the Ohio State Highway Patrol where he worked diligently for thirty years. He was an active member of the New Concord United Methodist Church, as well as the Lions Club and the Masons.
Terry will be deeply missed by his wife of over twenty four years, Gail E. (Lash) Stamm Requardt, whom he married on May 15, 1999; his children, Jenny McCoy, Tammy (Micah) Whitehair, Heather Requardt, Kyle (Brandie) Requardt ; his step-children, Matthew (Jo-Beth) Stamm and Gregory (Annie) Stamm; his ten grandchildren, Austin (Mckenzie Riggs) McCoy, Riley McCoy, Colt McCoy, Caden Whitehair, Sami Whitehair, Kaylee Requardt, Ben Stamm, Mya Stamm, Joey Stamm, and Emmy Stamm; his three great-grandchildren, Oaklee, Walker, and Malia McCoy; his sisters, Nancy (Bob) Messmer, Judy Requardt, sister- in-law, Linda Foster, special niece and nephews; and his "Village" of friends.
Terry is preceded in death by his mother; as well as his granddaughter, Annastyn Stamm and brother-in-law, Bob Foster.
Terry was a devoted Christian family man with a giving and serving spirit.
As a pre-teen through college, Terry "TR" spent every summer as a counselor at Camp Ernst in Burlington, KY, where he helped provide amazing experiences for the campers and made lifelong friends for himself.
He was a very proud Dad and PaPaw making every effort to be present for his children's and grandchildren's myriad of activities and outings at Seneca Lake.
As Terry's health declined, he treasured the times family members would hop up in bed with him to watch Hallmark and other movies and appreciated when they gave him special attention.
For several years, Terry volunteered to keep the stats for John Glenn High School football games; coached Summer Softball; was active in the Music and Athletic Boosters, 200 Club, and the JGHS Athletic Hall of Fame Selection Committee.
Terry used his construction skills to build and maintain two homes and Seneca Lake cabin for his family. The community also benefited from his talents, building concession stands and press boxes for East Muskingum Schools and making repairs for New Concord United Methodist Church and Parsonage.
As a member of the Ohio State Highway Patrol, Sergeant Requardt went above and beyond … participating in "Shop with a Cop" taking underprivileged kids shopping for Christmas; the "Polar Bear Plunge" and "Torch Run" for Special Olympics; and speaking to students about careers, safety and "Prom Promise", making his own children so proud to see him standing there in his uniform.
On more than one occasion, Terry opened his home, giving a safe place to live for family, friends, and even strangers he met at a crash.
After being diagnosed with Fragile X-Associated Tremor Ataxia Syndrome (FXTAS), Terry took part in several clinical research studies at Rush University Hospital in Chicago, IL, knowing that the research would not change the course of his own progressive genetic illness, but hoping it would help someone else in the future.
Terry enjoyed traveling and one of his favorite places was Gatlinburg, TN, making one trip there on his motorcycle with Gail at his back. He was fortunate to go from coast to coast; from Canada to Mexico; and "across the pond" with dear friends, for "the trip of a lifetime" Mediterranean Cruise.
Once only a meat and potatoes guy, Terry's food choices did expand throughout the years, still with added cheese & ketchup, but never peanut butter; his favorite pie was banana cream; but his perfect comfort meal was forever … a Frisch's Big Boy!
Visitations will be from 12 to 2 pm on Saturday, June 24, 2023 at the New Concord United Methodist Church, 20 East High Street, New Concord, OH 43762. A Celebration of Terry's Life will be held at 2 pm on the same day. Pastor Philip Wilden will officiate the service.
Memorial Contributions may be made in Terry's memory to East Muskingum Student Endowment Fund, MCCF 534 Putnam Avenue, Zanesville, OH 43701; New Concord United Methodist Church, 20 East High Street, New Concord, OH 43762; or an organization of your choice.
The Farus Funeral Home of New Concord is caring for the Requardt family.