Ables Inc. Receives Check from Bureau of Workers Compensation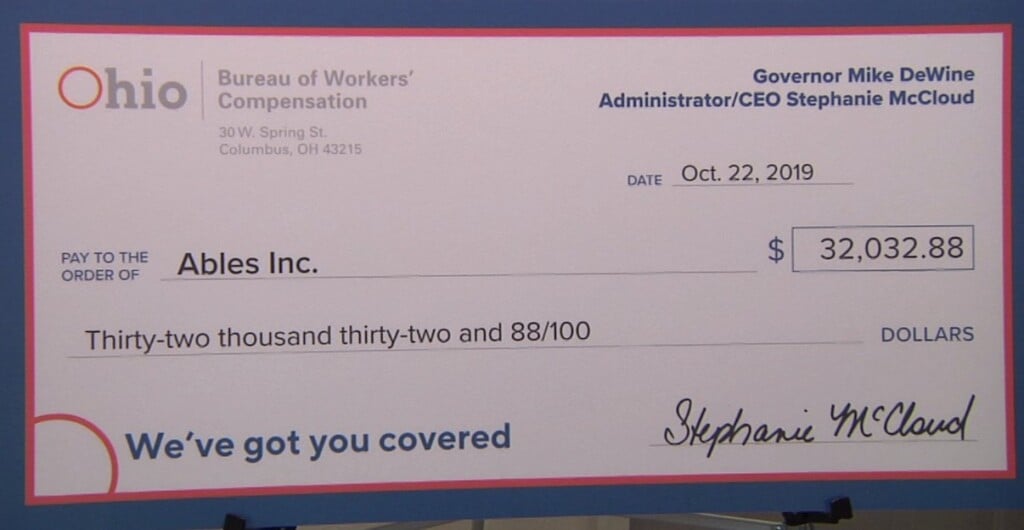 CAMBRIDGE, Ohio – The Ohio Bureau of Workers Compensation is in the process of distributing $1.5 billion to private and public employers across the state; including Ables Inc. of Cambridge. Stephanie McCloud, with the Bureau of Workers Compensation, was on-hand today to present the company with a $32,032 check.
McCloud says the bureau has mailed over 177,000 checks to businesses across the state.
"Specifically, the bureau takes all of the employer premiums that we receive each year; we invest those in stocks, bonds, mutuals, real estate. We have a whole portfolio that we very closely manage. We have been able to return money in the form of a dividend because we've had some excellent returns on those investments. This past year, we had $1.5 billion in returns. At that time the governor and our board decided that they would return 88 percent of those dividends that the bureau received to Ohio employers; in the hopes that they will reinvest, not only in safety but also in the economy with new jobs."
Ables Inc. was founded 52 years ago and specializes in heating, cooling, electrical, and refrigeration. Owner Russ Ables says the dividend is earmarked to purchase new safety equipment.
"Well, it's a great honor for this to happen; this is probably one of the things that's a once in a lifetime deal. The money is going to be spent, you know, when we got notification between Jeremy and Josh; we went to them and said, 'Okay, what's on your want list? What's your wish?". And, they came back with the things that they need to provide their people with the things that they need to be safe on the site."
Throughout the Cambridge area, public employers are being given $4.4 million dollars–a portion of which will be distributed in Zanesville.