Ivan "Butch" F. Wilcox Sr.
May 21, 1949 - August 8, 2023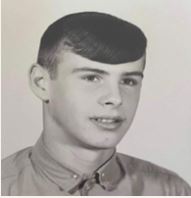 Ivan F. "Butch" Wilcox Jr. passed away at his home with his loving family by his side on Tuesday, August 8, 2023. Butch was born in Newark, OH on May 21, 1949 to the late Marjorie and Ivan "Ike" Wilcox Sr.
Butch graduated from Newark High School, class of 1967. He worked for several companies in his years with the last driving truck for SBC. Butch loved playing golf and played several times a week. In his younger years, he played on several softball leagues and was an avid hunter and fisherman. He loved his grandchildren. He and Barb had the pleasure of raising two granddaughters, Ashleigh and Jordan whom he loved dearly.
He is survived by his wife of 46 years, Barb; children, Shawn (Amy Scurlock) Wilcox and Angela (David Kinney) Ponn; grandchildren, Ashleigh Wilcox, Mackenzie Wilcox and Jordan Wilcox; great grandchildren; siblings, Marilyn (Dave) Miller, Beverly (Pat) Rocky, Don Wilcox, and Steve (Cherie) Wilcox; and uncle, Dan (Peggy) Wilcox.
In addition to his parents, He was preceded in death by brother, Bobby Wilcox; and stepson, Brian Lemay.
Memorial contributions may be made in memory of Butch to the American Cancer Society and/or St. Jude's Children's Research Hospital.
Visitation will be held Tuesday, August 15, 2023, from 11-1 pm at the Brucker and Kishler Funeral Home, 985 N. 21st St., Newark, where the funeral service will follow at 1:00 pm. Burial will follow the service at Newark Memorial Gardens.
To sign an online guestbook, please visit www.brucker-kishlerfuneralhome.com